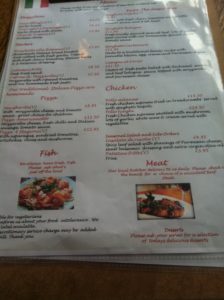 We heard about Zio Peppe as one of Catriona's students is the manager. So we decided to pop along before our cultured evening of Shit-Faced Showtime (Pirates of Penzance for those interested). We rocked up at 7pm on a Saturday to find our reserved table in the window – the perfect seat for people watching and spotting your friends walking in the wrong direction. If you search for the restaurant on google maps, it sends you to the wrong place. It's actually between Costa and Cafe Rouge. Not down the little alley way to East Street.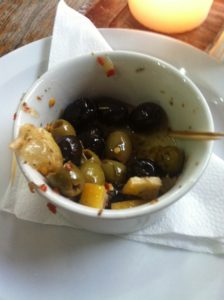 Federica is a wonderful host. After explaining everything on the menu and the specials board (remembering a conversation she'd had with Catriona before and knew my love of friarelli from VIP Pizza). Ordering a round of drinks (red wine, orange juice and two Peronis) and some starters (two cheesy garlic breads) we settle in for a natter – and a free bowl of olives that Federica magics onto the table. Every time Federica wanders past we have a chat and get to meet her brother Lorenzo, who is also the pizza chef.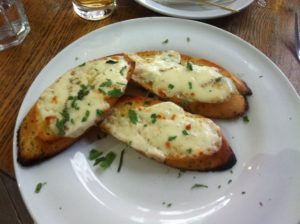 The garlic breads arrive, with a surprise bruschetta for Catriona. The garlic bread is brilliant. Soft, chewy bread and a really generous amount of mozzarella melted on top. Jenny B's words "none of that frozen shit here, perhaps a slice too much for a starter but worth it." The bruschetta comes loaded with fresh tomatoes, rocket, parmesan and balsamic dressing. Catriona's words "Good bread, good and fresh and not too filling. Tomatoes aren't soft and squishy and I don't feel hot and stuffed, just warmed up and ready for the next course!"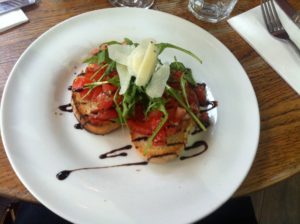 After a little wait, the mains arrive. Turns out, didn't need starters. My pizza is huge. Jenny B and Lisa's pasta bowls are loaded up, and Catriona. Well. She ordered the lamb shank with fries. What actually arrives is the lamb shank with a pile of veg, roast potatoes, fries and – to top it off – a bowl of the mushroom risotto which no-one ordered but Federica insisted we try as it's her favourite dish.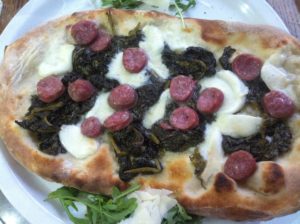 We'll start with my pizza (my blog, my food first). The dough is wonderful, an interesting mix of a crisp outside and fluffy inside. There was a super generous amount of cheese and friarelli. The sausage is the only disappointing thing. There's no flavour to it and it's a bit gristly in some places. Other than that, I am a HUGE fan of my pizza.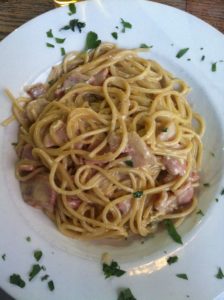 Jenny B's carbonara is "good, authentic and home-made", Lisa's napoli is "tasty and filling, really good!" and Catriona's lamb fell apart when she put her fork in it. The meat was tender and smothered in an aromatic red wine and rosemary sauce. The fries are crisp and salty. The mushroom risotto I did not touch because, well, mushrooms, but Catriona enjoyed the few mouthfuls she managed. We all ended up taking doggy bags home with us (kindly labelled so we knew what was what! The carbonara is as good the next day as it was that evening).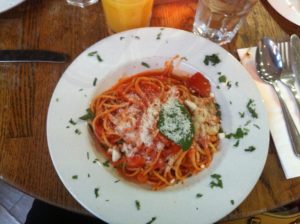 Sadly we noticed the time and had to get a move on, but not before Federica presented us with limoncello and handed me a takeaway box of tiramisu for later!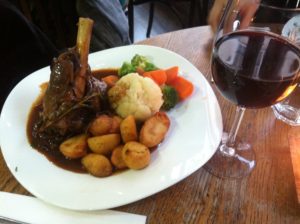 Phenomenal service aside, we were big fans of this place. Big portions of good food, what more do you need? I admit that I think some of the options were over priced, for example I actually wanted the scallop and king prawn linguine with chilli and garlic. But at £22 I felt this was a bit much – had it been £16-£18 I would have felt that was more reasonable. The steak (no size stated) was also above £20. But this aside, lovely décor, perfectly located for people watching and outstanding service. And the service wasn't just for us, the couple next to us had two screaming children (for which they were very apologetic) and when the toddler threw her pasta on the floor, another waitress simply got her another portion to go and played with the baby and were perfectly happy and friendly to all customers. My meal – a Peroni, a garlic bread and my pizza – came to £23 (we were super lucky and got the limoncello and tiramisu for free).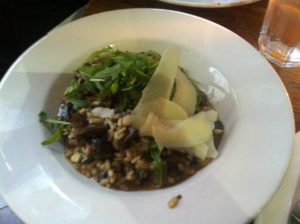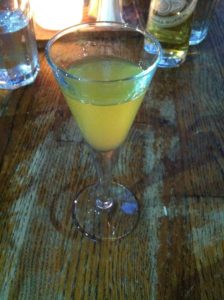 Zio Peppe are on Facebook, and I'm on Twitter and Instagram – give all of them a look!