This review is a bit late. I actually first experienced Two Birds gin in October after the lovely Morgan Rees bought me some as a present (October 10th for those wondering when to send gifts). Then I started my blog and got distracted by other gins and unemployment and new job and working all bank holiday weekend in Liverpool. But a conversation with my manager prompted me to get my act together and do this. Plus I was scared because I have so little left and I'm dreading the moment when it runs out 🙁
So. Two Birds. Another small batch gin, this one made in batches of around 100 bottles in Market Harborough, Leicestershire. As well as their London Dry gin, they also make a Vodka and Absinthe (plus some fun flavoured Vodkas depending on the season). This is the bottle that started my love of pretty designs on bottles.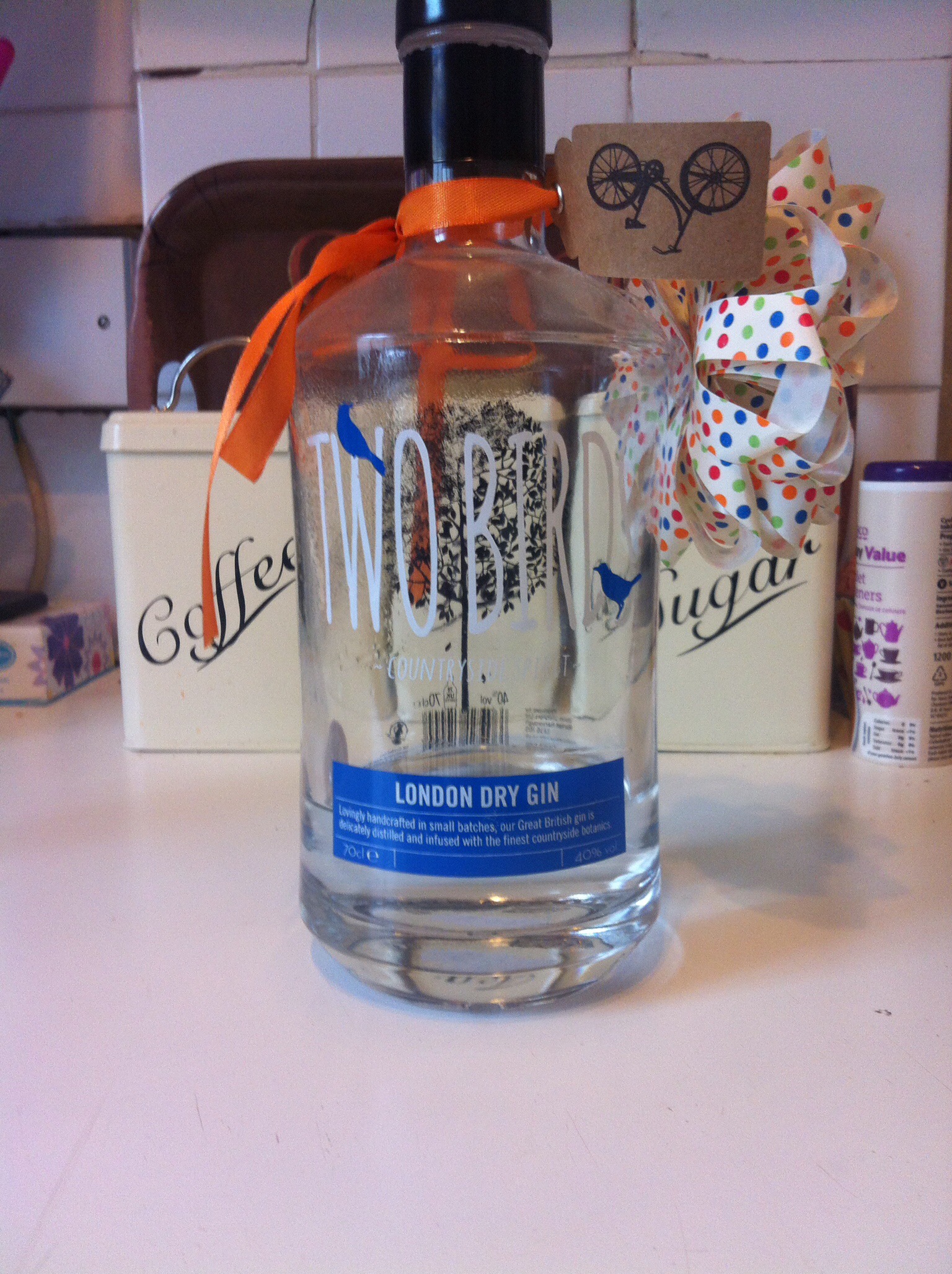 (Note: the bottle doesn't normally come with a polka dot bow. This is Morgan's version of wrapping and I enjoy it too much to remove it)
The bottle is a screw top so whilst you don't get the satisfying noise of a cork popping out the bottle, it is much quicker to break your way in (an important factor in my gin drinking life). The smell from the bottle is dry with the juniper coming through as the predominant note. I did the standard mixing it with water to release the botanicals and, unusually for the gins I've been drinking recently, you don't get a hit of citrus. It tastes smooth on the tongue, no nasty screwed up faces ensue when drinking. It leaves a warm lingering tastes in the mouth and the dryness comes through leaving you wanting more.
Time for the G&T test.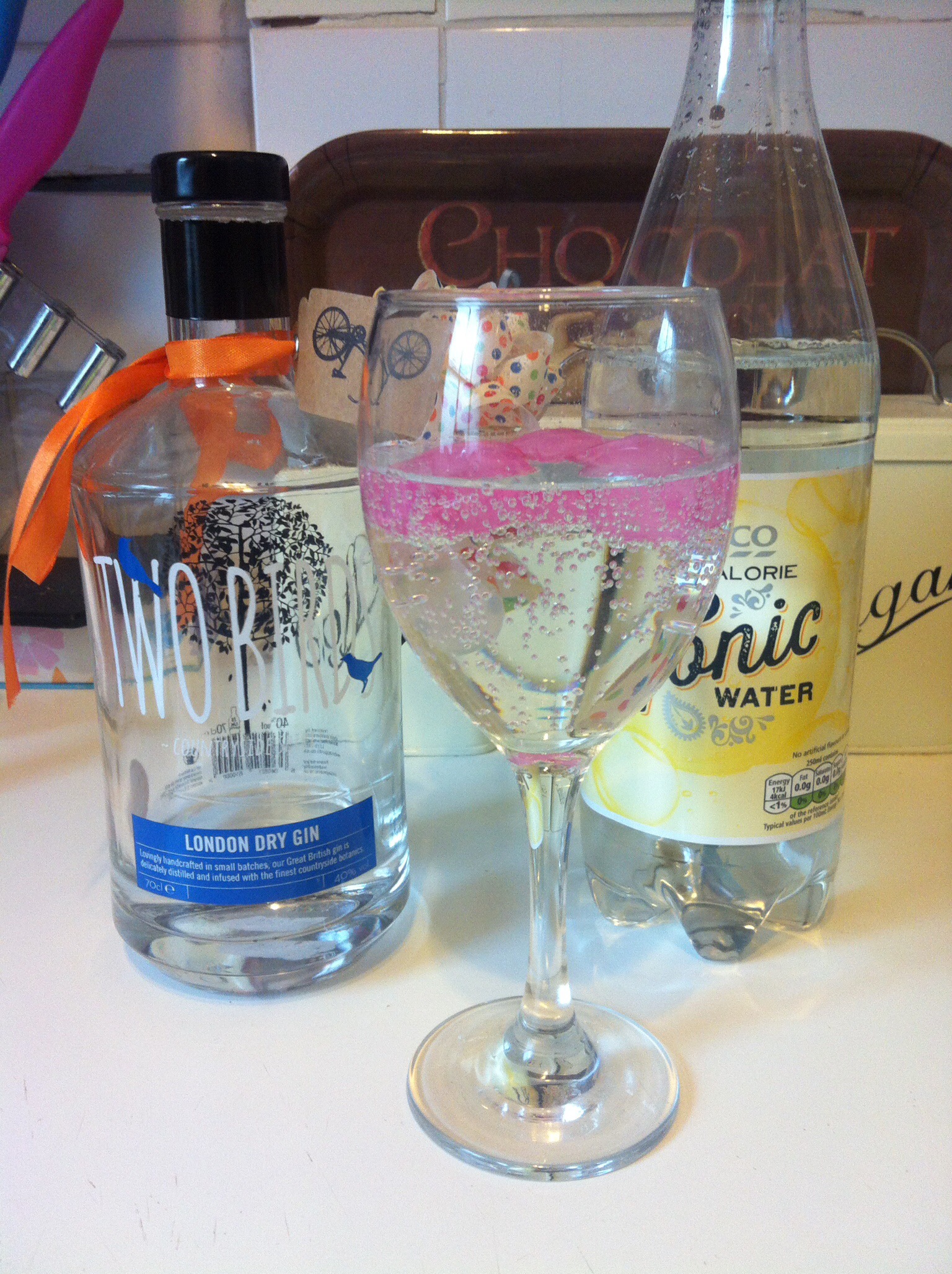 For the test I'm using Tesco Low Calorie Tonic Water. This isn't to be sniffed at. Tesco do a great range of tonics from normal tonic water to some flavoured with cucumber, jasmine and elderflower. They also do a great bitter lemon, and they are 4 for £1.50. And, most importantly of all, it isn't Britvic.
Moving on. It is reminiscent of the Blackwater No.5 Gin in that it is smooth and fresh as you drink it. Whilst it doesn't have the big punchy characteristics of some other gins, the smooth quality makes it very quaffable (it is seriously running low in the bottle). I usually love a citrus garnish but I don't feel this needs it. Quite dry on the tongue (a good point in my books), Two Birds leaves you wanting more. I imagine it would work well in a cocktail or as a good base to any mixer as the simple flavourings would allow any added flavours to come through.
The gin is made with four botanicals (and juniper) which helps to explain why there is less going on, but bottled at 40% and a 70cl bottle setting you back a mere £28, I think this is a good buy. This gin will be great as an everyday G&T but it is special enough to feel like a treat. Plus look at the bottle. How beautiful will that look on the shelf filled with fairy lights (the current fate of all my empty gin bottles).
You can order Two Birds spirits from their website here, and you can follow them on Twitter and Facebook.
Don't forget to follow me on Twitter and Instagram for daily rantings and gushes.