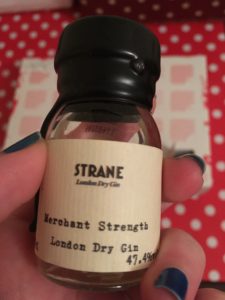 Day 2 is here (again, a bit late because I went to see a musical…) and bestows upon us the Merchant Strength version of Strane Gin. Made by the established Smögen Whisky distillery on the west coast of Sweden, batches are made in a 100 litre still making it very small batch indeed. The Merchant Strength gin is bottled at 47.4% – if that's not enough for you they also produce a Navy Strength (57.1%) and an eye watering 76% Uncut Strength. Even I think that sounds like a bad idea waiting to happen!
Smelling it from the bottle, it's not as strong as yesterday's Half Hitch gin. Boy think's it is fruitier, I'm less convinced. Mostly because I'm not sure what a fruity gin would be like.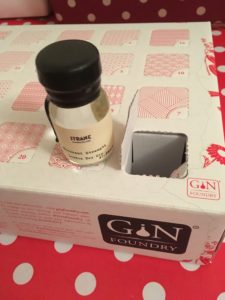 Tasting it, it has more of a kick to it on the tongue but a more rounded flavour than Half Hitch. The flavour feels more complex and slightly smokey – a flavour I image that is coming from their whisky heritage. Boy thinks the flavour is "harsher and more short lived". I have no idea what he is talking about, he isn't a gin drinker. Sticking with the trusty Tesco tonic (obviously not because I'm drinking multiple day's gin in one night), it's not quite as smooth as I thought it might be. I think the deeper notes are staying, making it heavier than a normal gin and tonic. My favourite thing about a G&T is that it is light and refreshing. I like a dry drink more than anyone, but this isn't a dryness so much as a depth. Nosing on their website shows the botanicals include mint, basil and sage alongside almonds. This explains the savoury edge.
Strane Gin's Merchant Strength costs £39.45 for a 50ml bottle over on Masters of Malt (at time of writing). Personally, I'm not convinced this is the gin for me. But I've also only had a small tasting and I'm sure I could change my mind after a second serving (as I often do).  They are also available on Twitter.
What do you think of the Swedish export? Let me know on Twitter and check out some photos on Instagram.