Note: I emailed 6 O'Clock gin for a sample for the blog and they replied by sending me a whole bottle. However, if this gin is grim, I'll be honest about it. Although I am very happy that their version of a sample is 70cl.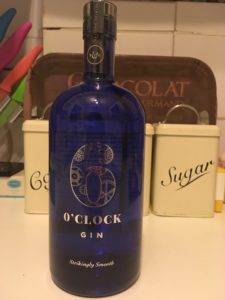 I've known about 6 O'Clock gin for a while, and strangely have tried their tonic but not the gin. – the tonic, btw, is very good as well. Packaged in a lovely blue bottle with some simple branding, I'm a fan. They have a few gins to their range, the London Dry bottled at 43%, a sloe gin and a damson gin – as well as a whole range of liqueurs to complete your cocktail cabinet. Their gin is made in a classic copper still which is solar powered, making this a carbon neutral gin – important considering the amount of gin that is produced (and that I consume). Key botanicals juniper, orris root and angelica are joined by Winter Savoury (a Mediterranean herb akin to rosemary and thyme), elderflower and orange peel. They think the perfect serve is: gin, served with two or three times tonic. Correct. No poncy suggestions, but instead a nice note from them: "Forget the mango slices rolled in pepper corns, no need for sprigs and hold the fruit salad; our gin does the talking." We know from the colour changing adventures of Ginvent that I'm not a huge fan of gimmicks so let's see how this gin stands up on its own.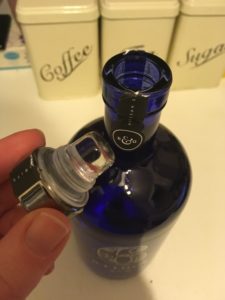 There's no wax seal for me to battle with today, which is probably best after yesterday's bouldering adventure which today means moving my arms too much hurts quite a lot. The bottle comes with a glass cork, a terrifying noise when you don't know this is happening! Haven't broken anything. Just the lid. The open bottle releases a string citrus smell – always a winner in my books – which fades slightly in the glass. Mixed with a dash of water, the juniper smell becomes more prominent. This is very easy to drink – I worry I drowned it in water. Definite taste of juniper and a hint of floral from the elderflower. They say on the bottle that it is "strikingly smooth" and they aren't wrong. This is very easy to drink.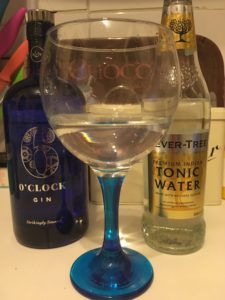 Mixed with some fevertree (treated myself on the way home), the taste of the gin is almost lost from the bitterness of the tonic. I can't taste any gin. There's hints of flowers and citrus, but it's slightly lost in the tonic (I tried this as a 1:2 and 1:3 mix). A couple of slices of lemon bring this to life and highlight the citrus tones to it. I imagine mixing it with an elderflower tonic would produce similar results and highlight the floral notes. Personally I'm not sure this has enough flavour to make it stand out, but this is rather nice to snuggle up with on a snowy rainy evening. Simple, but done well. I think this is their aim, no gimmicks, no fancy flavours, just a quality gin. A bottle of this in your home could be used for many things – I think this will work well in baking as well as cocktails.
At time of writing, a 70cl bottle of 6 O'Clock gin is available on Master of Malt for £24.10 – but is listed on their website as £35. Personally for me £35 is a bit more than I would pay, but for £25 I'd certainly grab a bottle.
You can find 6 O'Clock gin over on Twitter, Facebook and Instagram. What do you think about 6 O'Clock? Let me know over on Twitter and Instagram.