I wrote this blog when I was in Berlin in mid-September, let's look back at my adventure…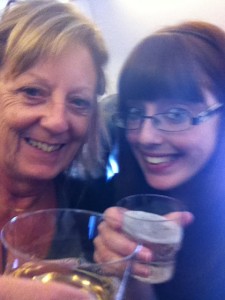 On the Thursday I woke up early (6am for the second time in one week) and jumped on a train to Gatwick to meet my mum at the airport. Is it lame to go on holiday with your mum when you're 3 weeks away from turning 26? No. We went to Prague last year and had a hoot. We like going to party cities and not really partying. Although last year it took us a while to find each other at Gatwick, this time I got through the train barriers and there she was. Off we fly thanks to Norweigan Airways (showing Mum how to use self service bag drop in the process) and wine and Prosecco (our flight was at 10am so perfectly acceptable, especially once you put your clock ahead an hour for German time…). By 3pm we had navigated the train system and checked into Melia Hotel Berlin. Right next to Friedrichstraß, our hotel lies on the Spree and perfectly located for our three day trip. After a quick wander, we collapse fairly exhausted into our hotel room with mini bar wine (booking through lastminute.com we got a €15 Voucher per night at the hotel aka all the minibar wine!)
Being lazy and exhausted we headed to Block House, a total of 20 feet from out hotel. I order a beer and a steak – medium rare – and Mum orders a burger. My steak arrives beautifully pink and Mum's burger was, and I quote, "no onion, plain meat, but tasty it didn't need the onion" – I should note here the 'burger' came with no bun and was purely a round piece of mince meat instead of a steak. This is a not a suitable place for vegetarians (so me circa 7 years ago). Served with a baked potato loaded with sour cream and a mountain of coleslaw, that combined with my Pilsner was the pick me up I needed after a long day of travelling. A steak, a burger, a wine, a beer and some water came to €40 including tip (£29.64 at the time of publishing). Bargain. In bed by 8.30pm, my mother and I shared a wonderful evening of silence, kindles and headphones before collapsing asleep.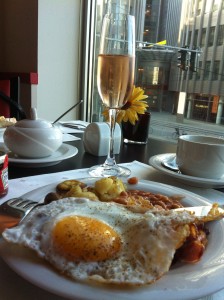 The next morning we awoke at 8.30am with no concept of the time thanks to our great blackout curtains. Heading downstairs to our included breakfast we spied some champagne. "Surely not for us" we said as we loaded our plates high with all of the necessary components for a fry up/heart attack. I tentatively asked our waitress about the champagne who instantly offered to bring me some. Best. Hotel. Ever. "Don't worry" I replied as I ran to get some. When my mum saw this she laughed, I mentioned it was free and she grabbed a glass. Definitely related.
We headed off for a walking tour that was mentioned in our guidebook my boss Kate had given me for the trip (published in 2007). Down the road from our hotel to Checkpoint Charlie (fake, a reconstruction thanks to tourism) along with the "You are now leaving the American sector" sign (also a reconstruction). Note: the two men in fancy dress offering to stamp your passport for €2 are also fake. We turned right along Zimmerstrasse to the remnants to the wall. I've been to Auswitcz and Birkenau and they are harrowing experiences, but seeing the wall (all 200 metres of it) is different. This is the wall that separated families and a nation. People on the south side woke up to it right in their doorways. The wall came down when I was one month old so growing up I didn't really get the significance of it, but the Topographie of Terror memorial along the wall really drove home that this was something humans did. Then once 'we won', a wall was built between 'us' and the Russians. When they finally couldn't hold back the crowds, the wall came down, and Hasselhoff sang a song (a month later but still).
| | | |
| --- | --- | --- |
| Checkpoint Charlie | "You are leaving the American Sector" (Fake) | The final stretch of the Wall |
Now the remnants of the wall are filled with holes from tourists and keepsakers wishing to own part of history for themselves. After this, our tour cheered up a bit as we walked up to Potsdamer Platz for some lunch and up to the Memorial to the Murdered Jews of Europe (I admit this doesn't sound very cheerful). The guidebook says that "it is spooky in places especially on overcast days and near the middle, where many feel a sense of confinement". We joked as we walked through the undulating alleys of pillars of different heights, but you can't help but feel a sense of unease. This is created because hundreds of thousands of people died. And much like the 'stone for every person that died in Auswitcz and Birkenau' memorial, this will never leave me. Whilst it is smaller at just 2,711 stones, it makes you feel fairly alone. The echoes of other tourists shoot around you, even when you can't seen anyone. In my mind, this is a beautiful memorial. It is something that will stick with you for a long time.
By this point it was only 3pm so we strolled up to the Brandenburg Gate and along Strasse Des 17 Juli to the Siegessäule, basically big F you to the French from the Russians. This is where normally I would have climbed the 285 steps to the top, but by this point we had already walked around 5 miles in the sunshine and I gave up because I wanted a beer ('tis the British way). So that's what we did. We visited a cafe opposite the Bundestag (Parliament buildings) where a young waiter lectured me on "we don't do pints in Europe we do litres" then apologised for having no lime for my my Corona and explained how in South America (where he was from) that no one drank Corona and how I should go to Mexico and drink real Mexican beer. Screw you kid. I like lager.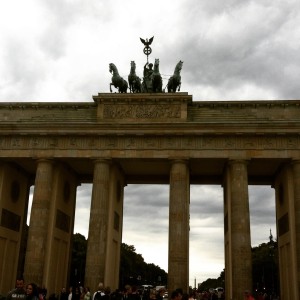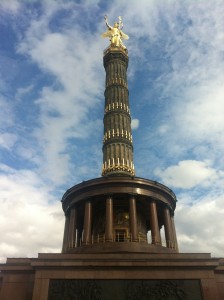 Dinner On Friday was courtesy of a Italian restaurant just over the bridge where we dined on a pepperoni pizza, a vegetable risotto and a litre of Pinot Gringo for €40 again (this seems to be our magic number). Thanks to the Spar Express in Fridrichstrß station, we had beer, wine and Pringles for €11 for pudding. I love Europe outside of England.
Saturday. Our last day. Having spent 30 minutes queuing on Friday afternoon to get a (free) ticket to go up into the glass dome on the Bundestag – heads up, you need some form of photo ID to do this – we headed over there in the morning sunshine. After some airport style security we were escorted to a lift which whisked us up to the fourth floor which opened on to an incredible roof terrace. No bar though. With 360degree views across Berlin, the roof terrace alone is a great sight. In the dome, a curled ramp leads you to the top as the audio guide (sounding freakishly like Bill Nighy) guides you towards points of interest and explains some of the history behind the structure and buildings around you. I think this was my favourite thing in Berlin. And it was free. I admit there was lots of queuing, but hey, I'm British and I enjoy a good queue.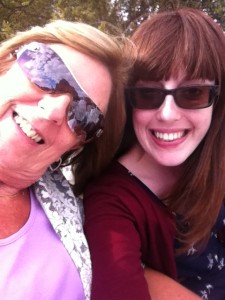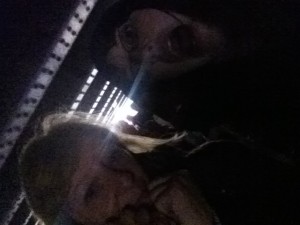 The afternoon was spent in a gin haze as we took a river tour along the Spree, which ended the other side of the city and the boat home the man had assured us would be there was, but wasn't leaving for 30 minutes. So we got a taxi home like good adventurers do. Dinner came from La Parrilla, an Argentinian steak house around the corner from our hotel. Mum had a turkey steak with cheese and pineapple – something that just sounded wrong to me – and I had a grilled salmon steak with potatoes and spinach. The salmon was beautifully cooked, the rest of the meal was so so.
It was with full bellies that we headed back to the hotel to sleep off our day of adventures, and after one final lazy champagne breakfast we headed home. I really enjoyed Berlin, although much like Prague I didn't see any of the nightlife, but the city was certainly buzzing and had a really nice atmosphere. Whilst it was quite busy, I never felt unsafe or crowded and I like that. If I wanted to be pushed around all day I'd just move to London (or indeed visit the Lanes on a sunny Saturday afternoon!)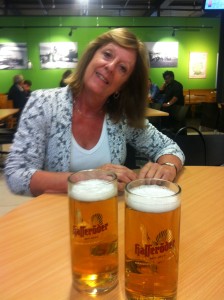 For a load of photos from Berlin you can check out my Instagram and for random thoughts, I also have Twitter.