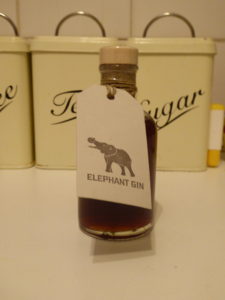 I got my sloe gin with my Elephant gin – bloody love this month's Craft Gin Club delivery. After the joy that is Elephant gin (and you can read more about that here), I'm excited to try their sloe gin. After ripping off the plastic wrapping (thank god for long nails) I unpop the cork and the smell is sweet and syrupy. A slight sourness comes through so the smell isn't overwhelming. Slightly Christmassy.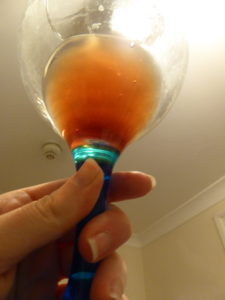 Initially dark in colour, when held up to the light it's a rich amber.
In the glass the juniper smell is strong, then I notice the label says "compared with other sloe gins, relatively low sugar content paired with higher alcohol volume" – it's 35% which is higher than the average 15-30% (although EU laws say it must be a minimum of 25%).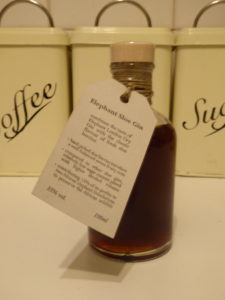 On the tongue when straight it's very syrupy and sweet, with a strong kick of gin. Mixed with a touch of water it mellows out and produces a rich berry flavour. The juniper isn't strong when you drink it, tasting slightly more of Chambord as a fruity mixer. Watered down slightly it doesn't even have a taste of alcohol about it, but I am now obsessed with the idea of it being Christmas.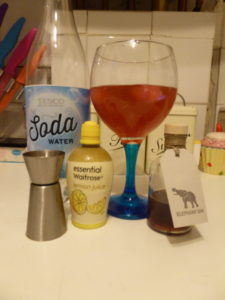 I don't usually drink sloe gin with tonic, so instead I'm mixing it into a sloe gin fizz (one of my favourite cocktails in case you're wondering). 50ml of sloe gin, 25 ml of lemon juice, a teaspoon of caster sugar and topped up with soda water. Nom nom. It's soft and gentle, the flavours don't overpowering anything else in the cocktail. Admittedly the recipe I followed called for an extra shot of gin, and perhaps this would have given it that little extra punch it perhaps needs (for my taste buds anyway). The bitterness of the gin and lemon juice is perfectly balanced with the sweetness from the sugar. Perfectly quaffable. I love sloe gin.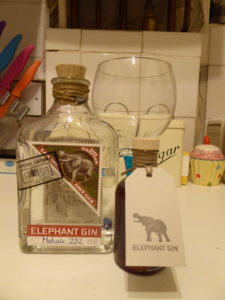 A 50cl bottle of Elephant Sloe gin is £31.95 on Masters of Malt (at time of publishing). I'd invest, now the winter and the dark nights are drawing in
Elephant gin are on Twitter, Facebook and Instagram.