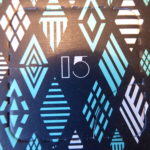 Happy day 15 of Ginvent! Today we drink Hayman's London Dry gin to celebrate it being Friday and the fact I survived my first week of my new job eek. Their award winning gin is made to a secret family recipe of 10 botanicals such as juniper, coriander, lemon and orange peel, cinnamon, nutmeg and liquorice. They also make an Old Tom gin, Sloe gin, Family Reserve and Royal Dock gin – along with some limited releases. Each bottle is hand made and hand bottled to ensure that each bottle is up to their standards. The Hayman's have distilling in their blood; in 1863 James Burrough was a curious pharmacist who made gin as well as a number of medicinal ingredients which filtered through the family and became the producers of Beefeater gin. When the family business was sold, they set up Hayman's gin to carry on the tradition.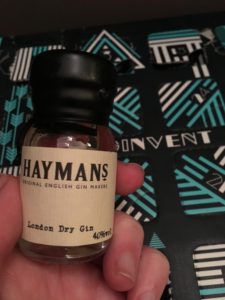 From the bottle, it smells like a classic gin. Juniper. Coriander. A hint of cinnamon and nutmeg. Once in the glass it doesn't change much, keeps it simple and clean. As I go to take a sip of it neat, the freshness and vibrancy of the flavours really hit me in the nose (which is much clearer than before thanks to a super sour and spicy tom yum soup for lunch) and this continues on the tongue. It's got a sharpness to it and a good boozy hit (because I actually quite like that). It's a proper gin. It tastes like gin. No fancy gimmicks. No wacky botanicals. Just simple gin flavours, done to a very high standard. It's so good neat that I'm slightly loathe to mix it with tonic in case it loses its edge, but in I go with some Fentimans. Turns out, I needn't worry. Even with the tonic is maintains its flavour, adding a slight menthol edge to it if you breathe out through your nose. It's dry. It's sharp. It's addictive. I repeat what I said earlier. This is a proper gin. That makes your gums tingle ever so slightly. Which isn't a bad thing.
You can buy a bottle of Hayman's Gin for the very affordable £20.99 on Master of Malt (at time of writing) and you should snap it right up. Seriously. Go buy it. I won't tell you again. You can find Hayman's on Facebook, Twitter and Instagram.