Note: I've heard good things about Conker Gin so I got in touch and they kindly sent me a sample. I'll let you know if it doesn't live up to the hype.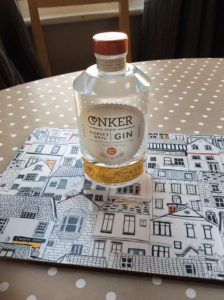 Conker Gin hails from Dorset – Bournemouth to be precise. To me, Bournemouth is the place of child hood holidays, feeding squirrels by hand, swimming pools, dirty beaches and my sister hiding in a hedge pretending to be a velociraptor. Don't ask. Conker combine juniper with elderberries, samphire and gorse flowers from nearby New Forest. I'm expecting a slightly floral gin with a hint of salt and seaside. Conker also produce a Cold Brew Coffee Liqueur made from Dorset's very own Beanpress Coffee Co. for anyone looking for an authentic coffee liqueur.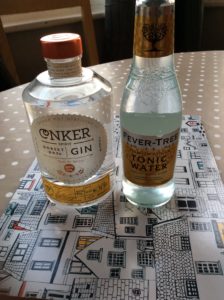 Opening the bottle (screw top) it smells quite lemony and floral. Mixed with some water in a copa glass it is very soft and gentle, a hint of juniper and not much else. But not in a boring bland way. This is light, slowly dancing across your tongue.
Mixing it up with some Fever Tree tonic, this keeps its lightness and its freshness. Again, no one flavour stands out but this is far from plain. I instantly want to be sat outside in the sunshine with a BBQ on Brighton beach (BBQ responsibly people). This is a classic gin. I love this. I'm so happy I've finally been able to try it. Is it slightly pricy for an every day gin? Perhaps. However, I think this is worth it. You know how some gins go OTT with the fancy flavours and kinda ruin it? This is a simple gin, executed to perfection. This has really picked up my day (my 10k run is three days away and I currently have two strapped up ankles, so that should be fun).
Conker Spirits are available on Master of Malt for £35.95 and you can contact Conker on Twitter and on Facebook.
Let me know what gin I should be trying next on Twitter and Instagram.