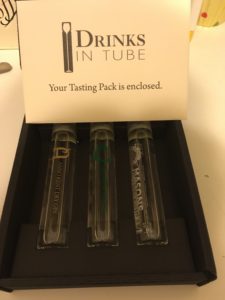 My aunt got me a cracking Christmas present: tubes of gin. Specifically Chilgrove gin (already tried, review here), Mason's Gin (coming soon) and Anno Kent Dry Gin.
Anno Gin hails from Kent (funnily enough) and I've seen them in various places but never given them a try. At Anno, they blend traditional botanicals with locally sourced lavender from the award winning Downderry Nursery, elderflower, rose hips and samphire. I'm expecting floral and slightly… salty? It certainly sounds like it packs in the flavour; the tasting notes on their website says it starts with juniper, moving to citrus and sweet spice – a flavour that grows as you drink it. Apparently it is "bold and long" (oo-er) with leafy herbal notes. It's blended with hops so I'm expecting it to be slightly earthy amongst the other flavours.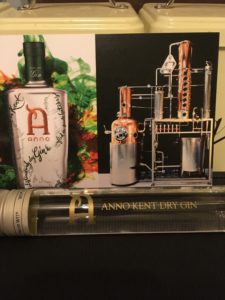 Cracking open the tube (I should point out I have a bit of a blocked nose) it certainly smells floral and herbal. Tinges of walks in fields, light and fresh. I have a 50ml sample so I'm going to go for the Ginvent style of tasting – no mixing it with water. In the glass it smells headier and the juniper becomes more prominent. It's slightly silky on the tongue, the taste certainly grows. Slightly sweet at the front, developing to a bolder flavour at the back of the tongue. I can also detect a slight saltiness which contrasts – and compliments – the woodier tones.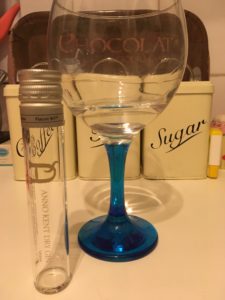 Alas, I only have a smidge of Fever Tree left, so it's back to Tesco tonic. Sadly, the tonic slightly drowns the gin, but hints of flowers come through. With tonic, I can't sense the soft spicy notes, but it is fresh and citrusy and a great post-run pick me up! (Training for my 10k run is going great btw…). Throwing in some lemon slices, it helps to bring the citrus flavours to the front. I'm not overwhelmed by this, but I think if I mixed it with a drier Fever Tree tonic it would help enhance the flavours.
A bottle of 43% Anno gin is currently £31.20 on Master of Malt which is pretty fair considering it's from a microdistillery (Kent's first in 200 years nonetheless). I'm certainly going to give this another go. You can get in touch with Anno via Facebook, Twitter and Instagram.
Have you tried Anno? What do you think? Let me know on Twitter and Instagram.