Martin Miller's Gin is probably the most 'mainstream' gin that I have reviewed so far. By mainstream, I mean it is available in shops and bars, but it isn't quite at the Gordon's/Bombay Sapphire level.
Launched in 1999, the London Dry Gin made itself unique by blending the spirit with Icelandic water. Whilst it follows the traditional flavours and dryness, but is distilled twice – once with the juniper and 'earthier' botanicals which are later blended with the citrus elements – in this case "bitter orange peel from Seville, lemon and lime peel". Bottled at 40%, this gin is what I would call mid-market – more expensive than a Gordon's but not the pricey £30+ level of the 'premium' gins.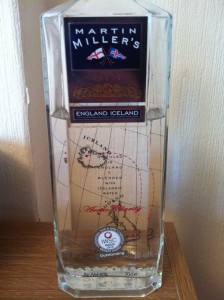 The bottle features a screw top, a sign of a mass produced gin. When opened it has a soft smell to it, not too harsh or dry, with the citrus notes coming through but not over powering. As per my usual method, I mixed the gin with equal amounts of water which released the smell of juniper, although not as intense as some of the other gins I have had. Soft on the tongue, the juniper comes through at the back and a slight bitterness on the front of the tongue hinting at the anise botanical. It tastes quite pure (if that makes sense) – they say it is blended with 100% pure Icelandic water "the properties of which give Martin Miller's Gin it's creamy soft palate". I agree. Creamy isn't a word I would usually use in this situation but it makes sense once you taste it. It rolls easily over the tongue, with flavour but not over powering.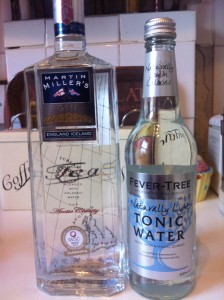 G&T time. I found a bottle of Fevertree lurking in my kitchen (bonus) so made up a simple G&T (although I didn't pay attention when I poured it leaving it around 50/50 gin to tonic. Not to everyone's taste but I reckon that's about right). As the weather is warming up ever so slightly I'm finding I like more ice in my drink; nothing says summer like a very cold G&T (preferably on the beach about 50 feet from my front door). It has a certain tang to it (this might be the gin or the amount of gin, not entirely certain). It reminds me of Blackwater no 5. in that whilst it certainly has character it isn't overwhelming with flavour. Add a lime wedge and it comes alive. The extra citrus brings out the subtler flavours. It remains slightly bitter at the back of the throat and the dryness of the tonic enhances that (that taste is one of my favourite things about a G&T – ironically this is what I used to hate before I became a ginaholic). The taste lingers in your mouth. Probably not for those who aren't a fan of a dry gin (you know who you are). Definitely one for those that like that.
At this point, I usually leave my review, but I'd read before that Martin Miller's works well with strawberries and black pepper. 50ml gin. Ice. Sliced strawberries. Tonic. Black pepper. It's lovely. The strawberries give a fruity twist against the dry tonic and the black pepper adds a lovely sense of bitterness. I'd recommend making one of these, plus you can't go wrong with boozy fruit.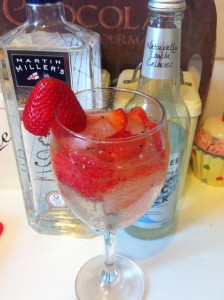 I got my bottle in Waitrose (I was feeling fancy and I treated myself) for £26 and they are currently offering 20% off all gin making it just £20.60 (so head down to get a proper fancy gin and make the most of it).
Don't forget you can follow me on Twitter for daily ramblings and on Instagram for various blurry photos due to my iPhone's old age.