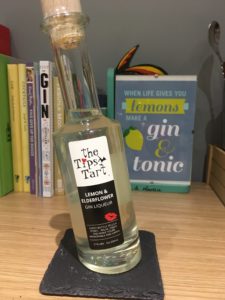 Up next in the series of "I have lovely friends that buy me gin" is a gin liqueur. Now, I know what you're thinking. Jenny doesn't rate gin liqueurs. Which is only true when a liqueur pretends to be a gin for marketing purposes. This bottle makes it very clear it is a liqueur and not a flavoured gin. Moving on. Tipsy Tart make a range of flavoured liqueurs with the aim to stand out from the crowd and to have a bit of fun. Not content with making cocktail ingredients, they also make bursting bubbles and shimmer drops so you can pimp any drink. Their white chocolate vodka has won a number of awards and they have quite the range of gin base liqueurs. I was given a bottle of the Lemon and Elderflower (21%ABV), which are two of my favourite flavours so I have high hopes for this.
Opening up my wonky bottle (side note: I apologise to Rach for thinking she had terrible wrapping skills which made the bottle sit strangely, because it turns out that's how the bottle looks) and it smells delicious. Instantly, I want to be outside in the sunshine, not wrapped up in a cosy jumper because it's dark and gloomy outside. The sourness from the lemon comes through, but is well balanced with the elderflower. In the glass, there's a touch more sweetness to it and sipping it neat is like sucking a fresh lemon. Makes your face do the Tangfastics advert face. It's great. The floral notes from the elderflower come through but aren't too perfumed or sickly, and the texture isn't too syrupy like some liqueurs can be.
I feel this will work really well with prosecco, but as that seems a tad indulgent now I live alone, I'm mixing it into a long drink with some soda water. It is very drinkable and refreshing, although the dryness of the soda water throws the sour/sweet balance out slightly, bit adding a splash more soda helps to restore this. This is the kind of liqueur you can add to prosecco to make it that little bit different for a party, or mix into a longer drink for the times you want something a tad less boozy than usuals
Slightly randomly, the Lemon and Elderflower flavour doesn't seem to be on their website, but the rest of their range is £18 for a 200ml bottle. You can find Tipsy Tart on Facebook, Twitter and Instagram.
Have you tried any of Tipsy Tart's range? Let me know your thoughts on Twitter and Instagram.