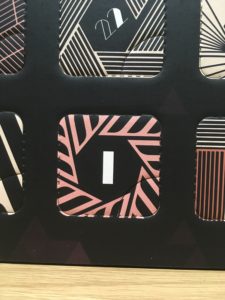 IT'S DAY ONE OF GINVENT 2018! Here we go again for a third year running. Sorry liver. To kick things off we are trying If you've read my blog for the last two years you might have seen my two previous blogs on 58 Gin – their normal gin here and their navy strength here. In those posts you can learn more about 58 Gin, because today we are looking at their sloe gin, and you'd be forgiven for looking past this bottle to try to find the sloe gin. Sloe gins that we know and love are a rich, deep purple colour. This one? Not so much. Rather than seeping sloe berries in a bottle of gin as per the standard method, the berries are included in the distillation process which apparently allows all the flavour, but none of the colour. So, does it actually taste like a sloe gin?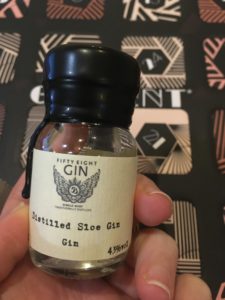 Cracking open my first miniature and it smells quite wintery, I wouldn't guess it's a sloe gin but there's something almost cranberry-esque about it with hints of vanilla. Almost like a Christmas candle. As this is ginvent and we only get 30ml samples, we are trying these straight, no water. In the glass, the ethanol comes up to hit you but if you don't breathe too deeply then there are still hints of berries lurking there.
A sip of it neat and I forgot it was 43%, less berry notes coming through but much more vanilla and warming spices on the front of the tongue. The ethanol calms down once it's left to breathe a bit, but I'm still getting some harshness. Adding some Fentiman's Premium Indian tonic water and the fruit flavours come back. Definitely some red berry and warming, earthiness but this is counteracted by a sharpness. There is a hint of sweetness I admit, but it's hard to pin down where the different senses are coming from. By adding a piece of lemon peel, the flavours change completely and is much more palatable, but it basically drowns out all of the flavours (it's a small sample and quite a large piece of lemon). Overall, I think the distillation of the sloes takes away the charm of a sloe gin – a viscous and slightly indulgent feel of the sweet, syrupy fruit.
You can get your hands on a 50cl bottle of 58 Sloe gin on Gin Kiosk for £29.50 (at time of writing). Personally, this isn't the one for me. You can find 58 Gin on Facebook, Twitter and Instagram.
Let me know what you think about 58 Sloe gin on Twitter and Instagram, and make sure you check out all of the #ginvent shenanigans over on the 2018 Ginvent page.