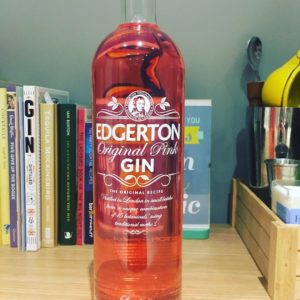 Next up in my series of "I have lovely friends that buy me gin" is Edgerton Pink gin courtesy of my lovely friends Tasj and Martyn. You look at a pink gin and instantly think of strawberries and raspberries, but interestingly the colour for this gin comes from pomegranate extract. They combine this with a classic juniper forward gin, citrus and spiced notes because they believe that colour is strongly linked to the success of the brand. Created by Martin Edgerton Gill and inspired by his father's love of the Pink Gin cocktail after time spent in the Royal Navy, the traditional drink is gin combined with Angostura bitters to cure seasickness. Martin took this and twisted it using his knowledge of herbal teas to create a contemporary pink gin using fifteen different botanicals – including supposed aphrodisiac damiana leaves.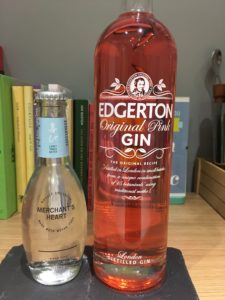 Opening the bottle and, for a pink gin, it doesn't smell sugary at all. I imagine this is due to the pomegranate instead of the traditional raspberries. There is a sweetness at the back, like a deep, rich vanilla. In the glass, it is certainly very pink and the vanilla notes tone down. Adding a splash of water and this is quite surprising. It doesn't matter that I wrote the paragraph above explaining that they were inspired by the bitter Pink Gin cocktail, when I see a pink gin I expect it to be sweet. This is not. My brain can't quite catch up. There's a piney flavour at the front followed by quite a tart note. It's hard to pin this one down.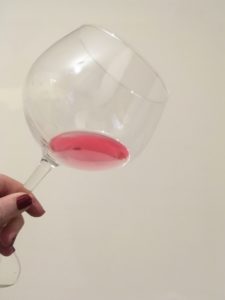 Mixed with some Merchant's Heart light tonic (because I realised I have so much tonic in my cupboard) and the lightness of the vanilla is able to shine through along with a tartness at the back of the mouth. The gin is dry, and if this were a blind(folded) taste test you would never guess it was coloured pink. I like what they have done. So many people are jumping on the pink gin bandwagon, and I enjoy that people who think they are buying a sugary, fruity gin are actually getting a dry gin that happens to be pink. It is still tricky to pin down the botanicals here, there's a menthol edge to it which refreshes your mouth, but a dry sourness and a tickle of back pepper on the tip of the tongue.
You can get a bottle of the 43% Pink gin from Master of Malt for £25.33 (at time of writing). Cracking value. It looks fancy, can be mixed with tonic or prosecco and is under £30 and therefore you don't feel bad when you drink it. You can find Edgerton on Facebook, Twitter and Instagram.
Have you tried Edgerton Pink gin? Let me know your thoughts on Twitter and Instagram.