Note: After I said I didn't really like barrel aged gins, Batch got in touch and sent me theirs to try to change my mind. Trust me, you'll know if it doesn't work.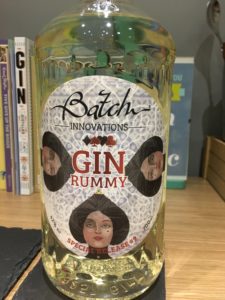 I find Batch Brew interesting. I came across their signature gin via Craft Gin Club (which you can read about here) and, alongside their key spirits they have a monthly subscription service under Batch Innovations. Every month they produce a new spirit, and this isn't limited to gin. Since February they've released an industrial strength gin, sherry cask rum, absinthe gin, a fruity vodka and a hop vodka. But today we are trying their Batch Gin Rummy; they took their signature gin, blended it with some of their Industrial Strength gin and stored for a month in the barrels used for their sherry cask rum (which were formally Glenfiddich barrels). The gin was originally meant to be a rum, but it wasn't going the way head distiller Ollie wanted, so they went with this instead. With the subscription service bringing money in, they are free to experiment and try new things – and they are then available to buy from their website should you wish to dip into their back catalogue. The contrasting flavours mean you can drink this as a gin and tonic, or as a rum and coke. Very confusing. So how does it taste?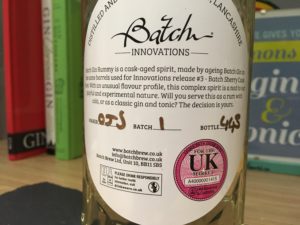 Opening up my bottle and it definitely smells like a gin, so this seems like a good start. There is something in the background, slightly like vermouth, which I imagine is a leftover from the sherry barrels. In a glass, it has an almost jammy quality to it – it's subtle and at the back but has a hint of fruit there. Diluted with a splash of water and there's something savoury thrown into the mix. On the tongue it is quite sharp, full of cardamom and warmth with that freshness you get from coriander. It definitely doesn't taste like a rum, just like a lightly spiced gin.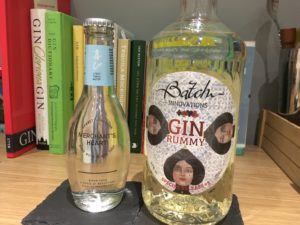 I'm going for the gin/tonic combo rather than the rum/coke combo using light Merchant's Heart and the spice becomes much more obvious. If I were blind tasting this, I'd guess it was a spiced rum, not barrel aged. Other barrel aged drinks are very heady and earthy, too like a deep whiskey for my tastebuds, but this is surprisingly light. It's gentle and warming on the tongue, like it's had a touch of ginger, cinnamon and nutmeg sprinkled in. Whilst I maintain this would work well with a ginger beer, it is easy to drink with tonic.
You can get your hands on a 70cl bottle of the 42% gin from Batch Brew's website here for £39 (at time of writing) BUT, if you want a bottle you can use the code BATCH10 to save 10% at the checkout. I think Batch have just changed my mind about barrel aged, which goes to show you can never tar all gins just because of one bad experience. You can find them on Facebook, Twitter and Instagram.
Have you tried any of Batch Brew's innovations? Let me know your thoughts on Twitter and Instagram.