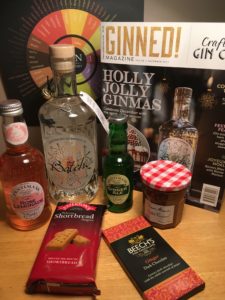 It's December! Which means one thing…it's Craft Gin Club delivery time. Now you may have noticed that this post is coming rather late, but I had enough gin to get through with #ginvent so I'm only just getting around to this. This month's delivery comes from Batch Gin, along with two bottles of Fentiman's tonic – one rose lemonade and one ginger ale – some Paterson's shortbread, a bar of Beech's Ginger Dark Chocolate and a jar of Bonne Marman Salted Caramel spread. Batch Gin is distilled in Burnley and features festive botanicals including frankincense, myrrh and allspice plus cloves, orange peel and lemongrass. Working from a converted windmill, the family team are adventurous – their plan for 2018 is to release a new product every month. Like most brands, founder Phil dreamed of starting up his own business, which was actually a brewery at first. Then he got annoyed at the sheer number of craft beers on the market. So he settled on that other tiny market – gin (although they have since made a vodka and have a rum ageing in barrels as I type).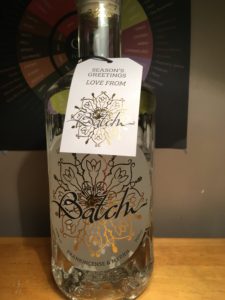 As I uncork the beautiful bottle (definitely one for the front of the shelf with the gold Frankincense stamen design and Christmas jingle bell) the spice is the most notable element. I don't really know what frankincense or myrrh smell like but the clove, orange peel and allspice are all there. It literally smells like Christmas in a bottle. In the glass, the juniper is allowed more prominence – something that carries through to the taste when mixed with a touch of water. There's a touch of citrus and sweetness at the back of the tongue, just enough to lift the flavour but not enough to be the star player. Mixed with Fever Tree Indian tonic, this is rather nice. The level of the botanicals work well with the bitterness from the tonic, it allows some spice to come through but not too much, and enhances the twinge of citrus at the end. It's quite a simple gin, there's no evolution of the flavours in the mouth and it ends rather quickly, but that's not a bad thing. My copy of Ginned recommends garnishing this with frozen raspberries and a twist of lime – WHICH FOR ONCE I ACTUALLY HAVE. The lime is a great addition, adding a tart edge to the gin that makes you suck your cheeks in. Do the raspberries add much (other than chilling the drink)? Not really. So stick with the lime, but maybe don't worry if you don't have frozen raspberries to hand.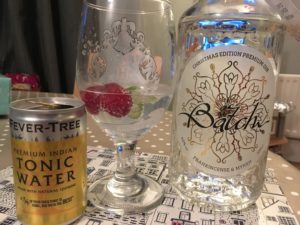 You can buy a bottle of their 40% gin on Master of Malt for £33.45 at the time of writing. I think that's pretty good value, it's a nice gin with a slightly different twist to it. You can find Batch on Facebook, Twitter and Instagram.
Have you tried any of Batch's products? Let me know your thoughts on Twitter and Instagram.
UPDATE: I made this into a 'Rose Between Two Thorns" cocktail as described in the magazine (put ice, 50ml Batch gin, 20ml elderflower and 15ml lime juice in a cocktail shaker, give it a good shake, strain it and add Fentimans Rose Lemonade). DAYUM it is great. Exactly how I like my cocktails. Sour and tart. Perfection.