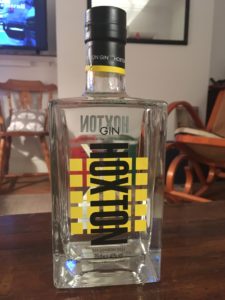 It's January! After the madness of Ginvent and general December frivolities, I've been taking a bit of time away from the blog to recharge. That and I've got a hacking cough. Yay January. But back to the gin. My sister got me a bottle of Hoxton Gin for Christmas. I have to admit, I wasn't the most thrilled when I opened it because I know the main flavour is coconut which I'm not a fan of, and haven't heard the best things about it. But it's also heavy on the grapefruit which I do love. So let's give it a go.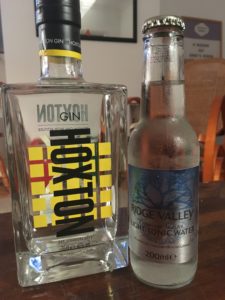 After opening the very stuff cork, from the bottle it smells like a cheap white rum. Like a pina colada. Slightly creamy and a hint of vanilla, but mostly a lot of coconut. In the glass, it doesn't get much better and it still smells like coconut. Or, in Cat's words – "this is the gin for those that love Malibu. The 13 year old that wants to mix it with pineapple". Not the best start, but we persevere and mix it with some (free poured) water (which might have drowned it) and it tastes better than it smells. The harshness that comes with the smell has mellowed and it's not as sweet or intense as anticipated. However I still can't taste any juniper. Or grapefruit.
Mixing it with Ridge Valley tonic aka Lidl's answer to Fever Tree and, honestly, it doesn't get much better. Don't get me wrong, if you love coconut and Malibu then this is definitely the drink for you. It's slightly oily. It's coconut. It's like we're 16 again. The flavour of all the other botanicals (juniper, grapefruit, coconut, ginger, tarragon and iris) has been lost as the coconut is sadly overwhelming. There's a hint of citrus but I wouldn't necessarily think grapefruit. Everything else is annihilated. After this we added more tonic and it became slightly more palatable. Still sweet but the coconut dies down a bit. But still. It's basically just coconut. Which would be fine if I liked coconut. But I think I'd prefer orange. And that says a lot.
Sorry Fiona, not so great choice this year. Should you wish to try some yourself, a bottle is available on Master of Malt for £29.95 (at the time of writing). Or I have a bottle I don't mind sharing. You can find them on Facebook, Twitter and Instagram.