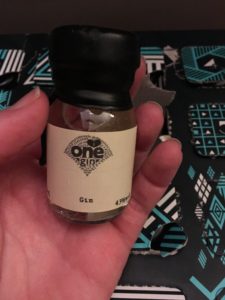 It's the final day of #ginvent! Today we are trying One Gin which I've already reviewed after meeting the team at Imbibe Live and you can read more about here.

As it's Christmas Eve, despite having tried it already I thought I should try it again anyway. From the bottle, the smell of cardamom is quite apparent – or in Mum's words "doesn't smell much like gin". My sister thinks it smells like a lavender pulse point but with a touch of juniper (I should point out she is a bourbon drinker). In the glass, there's a creamy vanilla aroma to it along with a herbal note at the back. Now it's in the glass, mother has accepted that it smells more like gin now and the sister thinks it smells like gin (eugh). Sipping it neat and there's a strong heat to it – an explosion of ginger and pepper leaving a long, slow finish on the tongue. Making my Mother drink neat gin is amusing. She is not a fan it turns out. My sister complains she doesn't like gin as she takes a sip – after asking if she can help. "Oh it's not so bad, it is quite vanillaey…oh no not the aftertaste". Everyone on Twitter is raving about the sage, that's not really coming up here. Mixed with tonic, the sage is slightly clearer – although frankly I'm not great at identifying herbs. Mum now thinks that it just tastes like tonic and there's no more gin. The Sister picks up spruce…until Mum's partner points out she is next to the Christmas tree. So. The sister now LIKES GIN. So, it seems like a winner.
Currently a full size bottle of One Gin is on Master of Malt for £40.95 – which is a tad pricey but remember, some of their profits go to clean water projects around the world so it's for a good cause.
Make sure you check out The Spirit of One on Facebook, Twitter and Instagram.
Let me know your thoughts on Twitter and Instagram. And finally… MERRY CHRISTMAS!