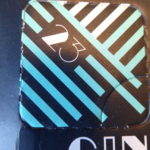 Here we are at day 23 of ginvent and today is a day I am particularly excited for. Today we try the Old Tom gin from Ableforth's Bathtub gin collection. Ableforth's Bathtub gin is probably one of the most iconic brands on the market with their distinctive brown paper wrapping, and I've tried their traditional version here. I really like Old Tom gins, so this should be a treat,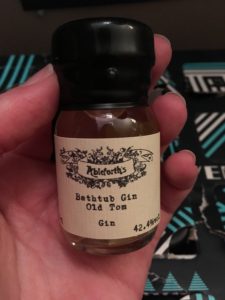 From the bottle, there's a hit of juniper and citrus. A very soft liquorice and aniseed note hits you with a backdrop of cardamom. In the largest wine glass I could find at my mother's house, the bitterness becomes more apparent – something I wouldn't usually expect from an Old Tom gin. Usually Old Tom gins are slightly sweeter, but the aniseed coming from this is quite startling. Sipping it neat and there's some tingling heat on the tongue which lingers for a good long while like a nice bite of fresh ginger. There's something aromatic and perfumed about it, it fills your head space with a menthol feeling. Tonight I'm mixing this with Fever Tree tonic, as that's what they sell in the Fleet Sainsbury's that we visited on the way home from the train station, which allows the sweetness to come through yet it retains a fiery kick at the back of the throat. It has a very long, slow finish to it, leaving your mouth dry from the juniper yet also heavily perfumed. It's reminding me a bit of the lavender gin from a few days ago, that whole mouth feeling of flavour, subtle yet definitely there. I feel the dryness of the tonic has a part to play in this and if we amped it up into a Tom Collins, the added sugar would allow the sweetness to be more obvious.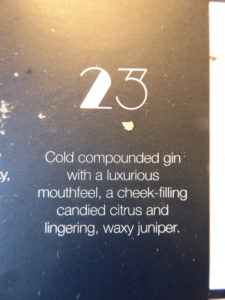 You can find Ableforth's Bathtub gin Old Tom on Master of Malt for £27.95 (at time of writing). I think these gins are really reasonably priced – there's a big range from Ableforth and they're all a bit different to your usual gin. I would recommend having a try. You can find them on Facebook, Twitter and Instagram.