Note: I emailed Esker gin asking for a sample for the blog and they were kind enough to send me some. As always, you'll know if I don't like it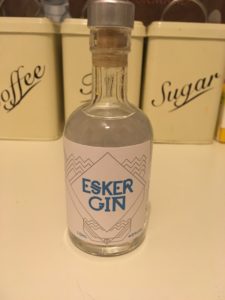 Scotland might well be best known for its whisky, but the Scottish craft gin scene is booming (WSTA conveniently put together a tasting map of Scotland for anyone looking to visit some of their distilleries). Esker Spirits is one of these new distilleries set up in October 2015 and is the first in Scotland to use silver birch sap as a botanical. Esker takes it name from "a long ridge, typically having a winding course, created by a glacier" – a sight reflected in their local geography in Royal Deeside, home to Balmoral Castle nonetheless. Developed over a two year period (with lots of experimentation) Esker settled on a recipe of over a dozen botanicals – including their silver birch sap tapped from the Kincardine Castle Estate which adds a touch of sweetness to the gin.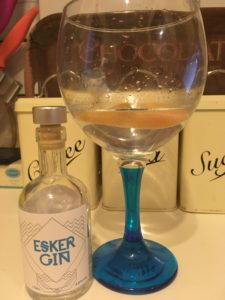 I'm in love with the label of this gin – simple, clean and elegant. Designed to reflect their local area, its a modern look with a nod to tradition and heritage and including mountains, rivers, castle and juniper berries. Popping the cork, it's a lovely smell that comes out. Reminiscent of the outdoors – not in a heavy, oaky way, but in a fresh meadow kind of way. The juniper leads the way once it is opened up in the glass. Mixed with a spash of water (tap, not fresh Scottish mountain water unfortunately) it is well balanced with flavours – a slight peppery taste at the front of the tongue and a very smooth finish. A savoury, floral note reaches the back of the nose (can floral be savoury?). Either way, it's good.
Pouring out a proper measure and mixing it with tonic (sadly all I have in the house is Tesco), this caused me to say "ooh?" and look at the glass I had just put down. It is full of flavour without being over the top. You can certainly get hints of juniper and a certain freshness – and a sweet tinge to it which comes from the silver birch sap. I was worried it would be one of those gins where they add a wacky botanical and it ends up a bit grim, but I like this a lot.
Steve from Esker saw how much I hate orange and said that whilst garnished with orange zest is nice, he also recommends grapefruit or rosemary – but more importantly also says that they don't enforce a certain serve and it's up to the consumer to decide how they like it. YES! A real bugbear is a brand trying to enforce their way of serving your gin to you. So, having gone and bought a grapefruit especially for this moment, I add a small piece of zest and this highlights the citrus notes – plus the smell from it adds another dimension to the tasting experience. I also can see rosemary working well if you prefer a more savoury finish.
Esker Gin seems to be tricky to find outside of Scotland at the moment, but you can get it online from The Good Spirits Co for £36 a bottle (although out of stock at the time of writing – don't worry, they're in the process of moving to larger facilities to keep up with demand). I like this, I would definitely pay £36 for it. Plus the bottle will look beautiful on your shelf. You can also get in touch with Esker on Facebook, Twitter and Instagram.
Have you tried Esker gin? Let me know your thoughts over on Twitter and Instagram.