Note: I contacted the team at Mews Gin to see if they wanted to send me a sample for the blog and they were kind enough to send me one. As always, you'll know if I'm not a fan.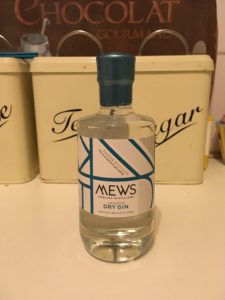 Mews Gin is a new artisan distillery set up in the heart of Surrey using the combined skill of founding brothers Richard and Daniel Mew. After two years of researching and experimenting with recipes and distilling, they had their final product in 2014 – just in time for a family wedding. Daniel is an engineer bringing technical skills and precision to the process and Richard brings his business experience to form their team – and a gin that combines "the vibrancy of youth with the subtlety of maturity". Whilst I don't fully understand that sentence, I think this is reflecting in their branding – the bottle label feels both modern and classic. But what about the gin? All of the classic botanicals are joined with pink peppercorn, lavender and cubeb berries. They vapour distil their gin – costing more in time and money – but they think this is key to making a lighter, more subtle gin.
Cracking open my little bottle it smells nice and citrusy, a smell which sticks when mixed with water in a glass. Straight up this doesn't taste like 38%. Very smooth and very easy to drink, there's a hint of juniper and a hint of citrus. Not really getting the peppercorn but there is a lightness that I associate with flowery gins which I presume comes from the lavender. There is no alcohol burn as it goes down – a sign of a good gin!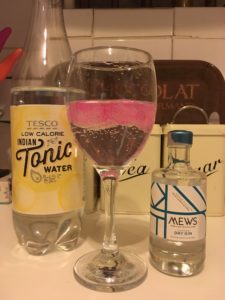 Mixed into a simple gin with two parts tonic (sadly still Tesco) this is different to usual. It tastes like a classic gin, but just at the back of your throat you get a sudden hit of flavour. I can't fully describe what it is, but either way this is fresh and zingy (yes, I went for zingy). It has woken me up after my long day at work and 5k run and I imagine this little bottle won't be lasting very long.
A bottle of the 38% gin is currently available on Master of Malt for £31.95 (although also currently sold out) and I would snap this up, pronto! This has the flavour and characteristics of a much more expensive bottle, so if you can snaffle it for under £32 then grab it while you can. You can get in touch with Mews on Twitter and Facebook.
Have you tried Mews Gin? Let me know what you think on Twitter and Instagram.