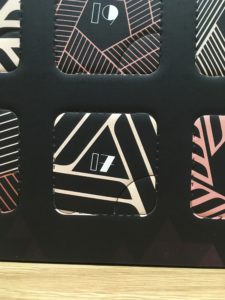 If you saw a full size bottle of 209 gin you'd recognise it instantly. One of the first craft gins on the scene, they launched in 2005 from San Francisco and are available in most supermarkets. They've since gone on to release an interesting range of gins – three of them are barrel aged in wine casks, giving them a sauvignon blanc, a chardonnay and a cabernet sauvignon. They also have a gin and vodka which are Kosher-for-Passover – one of the only spirits in the world overseen by The Orthodox Union to ensure the entire process meets the kosher dietary law. Their flagship gin differs to the norm, thanks to American definitions on gin theirs is less focused on juniper, and features citrus and floral notes with a touch of spice.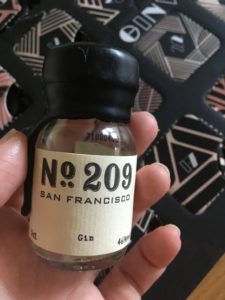 From the bottle it has a really interesting smell. The juniper is discernible alongside some warming cardamom and something lighter and brighter. In the glass this gets even softer. Allowing it time to develop rewards you with a light perfumed note, nothing over powering or heady luckily. A sip of it neat and the first thing that hits you is pure alcohol with quite a strong kick to it. Going back and I'm getting a strong citric flavour that's bringing a tartness to it, like a bergamot candle mixing the citrus with an earthiness.
Mixing this with some Fentimans premium Indian tonic and it is very smooth and calm at first, then it hits the back of your throat with a mountain of flavour. At first your mouth is filled with something fragrant and floral before a whack of citrus cuts through it to leave your mouth very dry. My concerns about the lack of juniper were unfounded, whilst it isn't the key flavour in play, the end note is certainly piney and leaving your mouth super dry.
You can get a bottle of the 46% gin from Gin Kiosk for £33.90 (at time of writing). I like this, I think this it's worth it. Obviously due to shipping it from America, the price will be a tad higher. However, the quick changing nature of the flavours make it quite exciting to drink and fancier than a Gordon's but not so pricey you can't afford it. You can find them on Facebook, Twitter and Instagram.
Have you tried 209 gin? Let me know your thoughts on Twitter and Instagram, and keep up with all things Ginvent here.