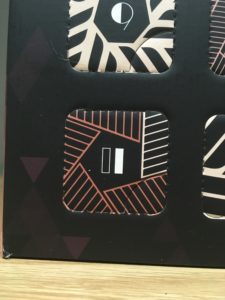 I'm not sure how I feel about today. This is a gin advent calendar. Not a liqueur advent calendar. This is only bearable because today's liqueur is a) bramble flavoured and b) it's made by Colonsay. We tried their gin in last year's calendar which was filled with flavour, and they launched this in August 2018 after a trial run in small bottles in 2017. As a liqueur, this sits at 20% instead of their usual 47% and they use blackberries foraged from the island of Colonsay (their homeland in case you couldn't guess) and brambles from Speyside in Northern Scotland. I'm a fan of a bramble cocktail so I have quite high hopes for this.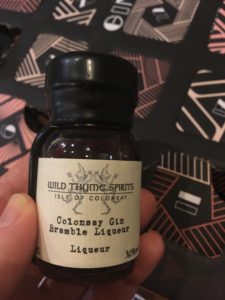 This is a very rich colour in the bottle, the deep purple of the blackberries really shine through. It also has the tartness on the nose of blackberries, you just know when you sip it you're going to have a slightly squiffy face. There's also a slight herbal note, I presume this comes from the brambles? Having never tried them, I can't be sure. In the glass and it reminds me of a red wine, that slightly ashy dryness to it which balances out the sweet berry notes. On the tongue and it is actually not that sweet, it's rather calm. Deep berries give it a luxurious mouthfeel and a nice soft flavour that washed over you fairly easily. I misjudged this from the smell, and I apologise.
Normally, I'd mix this with Indian tonic, but due to the flavours I'm mixing this with some lemon Merchant's Heart (I'm treating it a bit like a sloe gin). The citrus from the tonic amps up the tartness in the nose and brings a vibrancy to the drink. I think if you mixed this with tonic, it might be a bit flat. Instead, the lemon gives it the kick it needs to develop the flavour from sweet to sour and back again.
You can get a 50cl bottle of the liqueur from Gin Kiosk for £21.40 (at time of writing). I like this. I love mixing blackcurrant liqueurs with prosecco at Christmas, and this works well as a long drink with lemon tonic. It has the flavours of a Christmas sloe gin but without the sugary, syrup. You can find Colonsay gin on Facebook, Twitter and Instagram.
Have you tried any of the Colonsay gins? Let me know what you think on Twitter and Instagram, and don't forget to catch up Ginvent here.