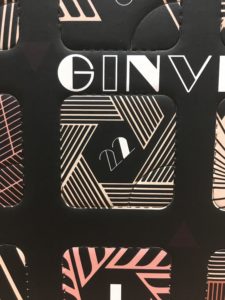 Final three days! Today we drink Malfy gin, an Italian gin with a lovely label. Most accounts of gin history trace the roots back to the Dutch genever, but Malfy claim that gin was invented by monks on the Salerno coast and their distillery in Moncalieri has been established since 1906. The key flavour for Malfy gin is the Italian lemons that grow in Sicily and the Amalfi coast. These lemons give the gin it's freshness, alongside Italian grown juniper and fresh spring water. Since launching, they have grown their range to include four varieties – the Originale that we are drinking today which actually came second and is more juniper forward than the original the Con Limone which makes the most of the fresh lemons, the Con Arancia using Sicilian blood oranges, and the Gin Rosa which features pink grapefruit and Italian rhubarb. So, how does it taste?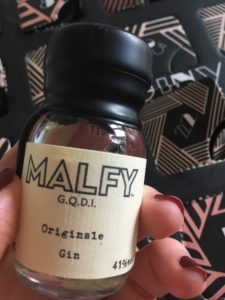 In the bottle and the fresh citrus hits you immediately. It's fresh and bright but grounded with the juniper. Opened up in the glass and the citrus develops to more than just lemons, the acidity of a grapefruit along with the crispness of a fresh apple. It almost smells like sherbet with the bright, tangy notes. A sip of it neat and the lemon hits you on the tongue, followed by an intense heat of fresh ginger but accompanied by a softness with a vanilla sweetness at the back. The heat leaves your tongue tickling for a while as it gently fades away leaving you with the dryness of the juniper.
Adding a splash of Franklin & Sons light tonic and the citrus has definitely developed to the tartness of a pink grapefruit rather than a lemon; you know how grapefruits have that sweeter edge to them? Yeh, well, it's like that. The juniper notes have faded, but you are left with a herbal twang at the back of the throat. It's a perfumed herby, not a medicincal Fishermens Friend herby that we've been tasting recently. I almost feel like a nice, big, green olive would work well here to balance it with a savoury note. Gin Foundry have recommended serving this with cherries, which I'm not sure about as I think that then brings in a whole other set of flavours with their jammy quality, I think something like rosemary would work to help balance. Or, if you really love citrus fruits, whack in a chunk of grapefruit and go nuts.
You can get a 70cl bottle of the 41% Originale gin for £26.68 from Master of Malt (at time of writing). I think Malfy is really reasonably priced, this is a good quality gin, not made on the huge commercial scale of Gordon's and the like but also still really affordable. Plus they will look great on your shelf. You can find Malfy on Facebook, Twitter and Instagram.
Let me know what you think on Twitter and Instagram, and don't forget to keep up with all things Ginvent here.