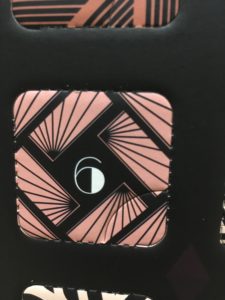 Day six of Ginvent brings us a special edition gin from Masons in Yorkshire. At the 2017 Harrogate Christmas market they launched their Peppered Pear gin, you might remember their lavender gin from the 2017 Ginvent calender. The Peppered Pear version is made as the name suggests, balancing the sweetness of pears with the heat of pink peppercorns. Although this was a limited edition in 2017, the team at Masons liked it so much that they have continued to make batches of it. They suggest serving this with a slice of kiwi, and the Gin Kiosk folk suggest red apple slices. So, what will it be?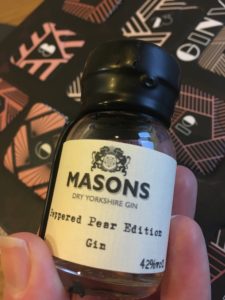 In the bottle, the juniper and peppercorn notes are the most prominent, although there's a vanilla note behind all of that. Given some space to breathe, the creaminess is stronger with an almost nutty quality. On the tongue, it's very gentle for about half a second then BAM, here comes the peppercorn. There's a hint of sweetness there, but the intense heat is the main character here. It's not unpleasant, indeed it certainly wakes you up.
Adding a splash of Fentimans premium Indian tonic and the crisp, fruit notes balance out the peppercorns. The heat is still there, but it's more manageable. There's also a tartness at the back which makes me think there's some grapefruit lurking in the back that makes you suck in your cheeks a little bit.
A 70cl bottle of the 42% gin is available from Gin Kiosk for £34.90 (at time of writing). I do quite like this and it is different to the norm. But can I justify the money? Perhaps it's the new homeowner in me that now sees everything in terms of redecorating and furniture. As I write this, it is definitely growing on me so perhaps I could be convinced. You can find Masons gin on Facebook, Twitter and Instagram.
Have you tried the Peppered Pear gin? Let me know your thoughts on Twitter and Instagram. Keep up with all things Ginvent here.