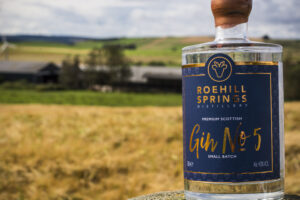 As we lead up to International Scottish Gin Day, I've teamed up with Roehill Springs gin to find out a bit more about them. They kindly sent me a bottle of their Gin No.5 to try, and I chatted to Shirley, one half of the founding team, about their background, inspirations and future plans.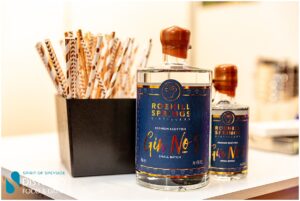 So, tell me how you got started in the gin game
Duncan and I met in 1976 and have been married for 42 years. Duncan is a farmer born and bred, and about 12 years ago he decided to take a job working in a local distillery as a stillman. We used to be vodka drinkers, my first taste of gin was when I was about 16 and before heading to a family wedding and I just thought it was like drinking perfume! When the gin market started growing, we went on a family holiday and did some blind tastings, which is when my journey with gin really began.
How did you decide to change from a gin drinker to a gin maker?
When the legislation changed and made it easier for small distilleries to start up, Duncan decided he could give it a go. After some discussion, Duncan bought himself a little copper still and started experimenting. We are lucky to be in our beautiful rural setting with an abundance of botanicals growing around us. We narrowed it down to seven recipes and called on our friends and family to taste test them all. Number three and number five were the top options, and we decided the fifth recipe was our favourite so settled on that.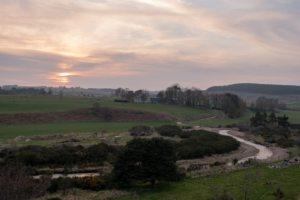 How did you come up with the name?
We couldn't pick a name for a while and someone joked that as it was test batch no.5 that we should just call it that! When we were naming the distillery, we had two main factors. Roehill is one of the crofts on the farm that is known for its abundance of Roe deer, and when we first got married, we lived in Roehill cottage. We had no electricity or running water but we got it modernised and this is where we started our family, so the name has quite a lot of meaning to us. The 'Spring' part is because we use our own spring water which also comes from Roehill.
What was the process behind settling on your branding?
With the history of Roehill it seemed obvious to use the Roe deer head as the logo. We went for a dark blue as a link to Scotland, with copper highlights as a nod to the copper still. Picking a bottle was tricky, Duncan brought home around 30 different samples, lined them all up and got our family involved to give their opinions. We like to position ourselves as a premium, ultra-small batch gin and we think the branding reflects this. When people see us at shows, they compliment the bottle and how it looks. It's quite a simple design, but the contrast of colours stands out.
What's your current set up?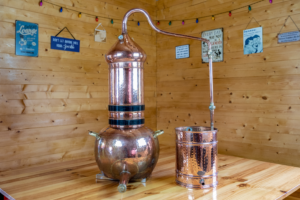 We are lucky in that we have a whole farm as our premises, with plenty of outbuildings to convert. We went through the admin of getting all of the licenses in order, but the building work was taking longer than planned so we ended up getting a temporary license to distil in a cabin aka my gin palace!
When did you launch?
Duncan had booked a stall at a local 2-day show and with the date of the show drawing ever nearer, now that we had secured a temporary licence, it was all hands on deck roping in the family to help with the bottling, labelling, wax-sealing and packing. It was a mad two days, we got great feedback and sales, but we hadn't been able to get our website live in time. We managed to finish our distillery in February 2020 and in March 2020 the website was finally finished with all of the ecommerce integrations.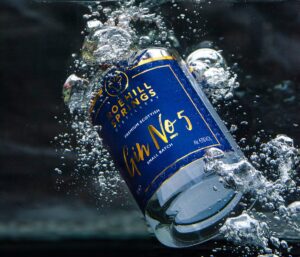 Ah, March 2020, we all know what happened next…
Yes, we weren't sure what to do at that point. We felt bad promoting a new gin when there was so much going on in the world and it was the last thing on people's minds. But time went on and we saw how other brands were still pushing forward to make a living. We launched locally and are now looking to spread out. If there has been a positive from lockdown, it's that we have been learning to truly appreciate the countryside around us. In May the gorse fields bloom bright yellow and the smell is surprisingly tropical, it's like coconut but with a ripe mango fragrance. I picked a lot early on in the year and was in love with the fragrance so would love to do a gorse-based gin. We also have easy access to elderberry, elderflower and sloes, so have lots of options for the future so are always thinking of new expressions.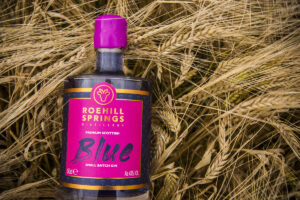 New expressions?
We are currently launching a colour changing gin. I love making cocktails and experimenting with new recipes and thought this would be a fun addition to the range. We hope to have a navy strength edition out by Christmas, they work so well in cocktails as the juniper still shines through even with the other flavours in the mix, and we'd love to make a Christmas themed gin in the future as well. We've teamed up with a local candle maker, Maisie Moo, to release a Roehill Springs candle with a burst of orange – our recommended garnish. We've started making up gift hampers for some orders with glassware and gifts which is a nice way to build up our offering.
With International Scottish Gin Day 2020 coming up on 24 October, do you have any plans?
We will probably just be drinking lots of Scottish gins. Everyone presumes that we drink our gin and our gin only, but I think there's so many great producers out there we should all support each other. Often Duncan tells me off as we come back from shows with more gin than we sold! Lockdown restrictions are messing everything up so we have no definite plans, but we have started thinking along the lines of a cocktail demonstration or similar – maybe just some short videos and to have some fun with it.
You can get your hands on a 70cl bottle of the 43% gin from the Roehill Springs Distillery website for £35 (at time of writing). You can find Roehill Springs on Facebook and Instagram.
I was introduced to Shirley and Duncan by The Gin Cooperative as part of my support for International Scottish Gin Day, make sure you check them out and pour yourself a Scottish gin on 24 October to celebrate! Let me know your favourite Scottish gin on Twitter and Instagram.