Note: The team at Roehill Springs kindly sent me a bottle of their gin to try, but as always I'll let you know what I honestly think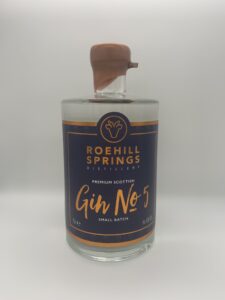 Roehill Springs Distillery is one of the newer distilleries emerging in the Scottish gin scene. Established in 2019, they're based near Keith – sort of between Aberdeen and Inverness – on their third-generation farm. They are also one of the few distilleries that actually make their own gin – all of their gin is distilled, bottled and labelled on site, nothing is contracted to established distilleries (FYI – there's nothing wrong with doing that, but lots of people don't admit it and that's misleading). So, why is this called Gin No.5? Where are numbers 1-4? After plucking up the courage to have a go at making his own gin, Duncan experimented with different batches and recipes and after many tasting sessions at home with friends and family, they settled on the fifth recipe, and in turn the name. Duncan, alongside wife Shirley, distil their gin in a traditional 30l copper pot still using botanicals foraged from the local area before blending it with spring water from Roehill (an area named after the abundance of Roe deer), which, as you can probably guess, also helped them name their distillery. Using a mixture of the copper pot still, a column still and a vapour basket, they add juniper, coriander, angelica root, cassia bark, pink peppercorns, and then some secret ingredients which they won't disclose.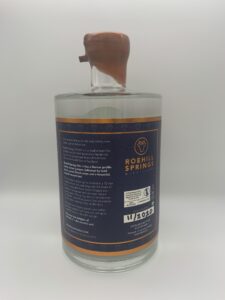 Opening my bottle which comes with a rather lovely bronze wax seal, hiding a screw top lid which is SO MUCH EASIER to deal with than a cork! Juniper and those bright pink peppercorns hit you straight away, alongside something rich and grassy. Smells a bit like a woodland. In the glass the coriander starts to come through, but keeps that verdancy. Adding a splash of water and it comes alive in your mouth, hints of woody juniper swoop along the tongue before the tangy pepper hits you. It tingles. And it is good.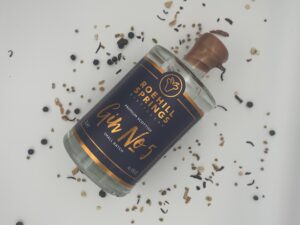 Pouring an equal measure G&T with Fever Tree light, I do have one small complaint: I have tiny, weak hands and the rotundness of the bottle makes it hard to grip when it is full. In the grand scheme of things, not an issue. But I'm clumsy and fearful of dropping a whole bottle of gin on the floor. On to the tasting and the flavours become more rounded and complete; instead of individual notes hitting you one at a time, it becomes more cohesive. You can pick out the juniper and pepper, and something that feels slightly floral – I'd take a guess at heather or lavender, but luckily it isn't cloying. I added a splash extra tonic and it takes on a lighter feeling, leaving some tart citrus notes at the back of the throat.
You can get your hands on a 70cl bottle of the 43% gin from the Roehill Springs Distillery website for £35 (at time of writing). You can find Roehill Springs on Facebook and Instagram. If you want to find out more about Roehill Springs and how they got started, you can read my interview with them here.
I was introduced to Shirley and Duncan by The Gin Cooperative as part of my support for International Scottish Gin Day, make sure you check them out and pour yourself a Scottish gin on 24 October to celebrate! Let me know your favourite Scottish gin on Twitter and Instagram.