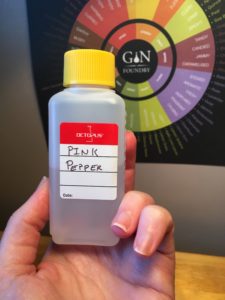 Audemus Pink Pepper gin hails from Cognac in France, when founders Bob and Bert met in 2014, over soup. Obviously. Their Pink Pepper gin is widely known as their flagship product and they dedicate each batch of their gin to their family, friends and people who have helped the brand over the years. They say the flavour changes as you drink the gin. The first prominent flavours are pink peppercorns (yup, who'd have thunk it), juniper and cardamom, however when served over ice the vanilla, tonka and honey come out. I'm very excited about trying this – on which note I'd like to thank Orla for kindly donating a sample to me. I highly encourage you to check out her Instagram account to see her puppies Kyuss and Paloma.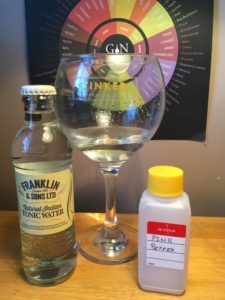 Opening my sample bottle the smell is lovely, spiced and welcoming which turns sharper in the glass – but not unpleasant. It's the kind of smell that wakes you up on a Sunday afternoon. A sip of it straight (no water) and it's certainly packed full of flavour and makes your lips tingle a little bit. I'm mixing my gin today with Franklin & Sons indian tonic water. Partly because I realised I have no Fever Tree left, and partly because I googled the best mixer to have with it and I saw Franklin & Sons recommended. Mixed with tonic, the spiced notes are the ones most prominent in my opinion, although with a sweetness at the back of the tongue to balance it out. Once a few ice cubes are added, it certainly is sweeter but remains some of the peppery fire which makes it so yummy. I don't detect any honey notes, but a touch of vanilla is on the tip of the tongue. I think I prefer this chilled, although perhaps if served warmer it would go well with a ginger beer to up the fire.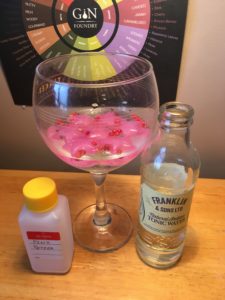 Because I'm fancy, I add a few pink peppercorns from a garnish set I've been given but never opened, which makes it pretty, but doesn't add much flavour.
A 70cl bottle of their 44% gin is available on Master of Malt for £45.91 (at time of writing) which is pretty pricey but I think this is a great addition to the gin shelf. Make sure you check them out on Facebook, Twitter and Instagram.
Have you tried Pink Pepper gin? Let me know your thoughts on Twitter and Instagram.