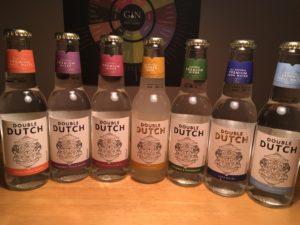 With the number of mixers now available, how do you know which one is best? Well, luckily I'm here to take one for the team and to try them all. Netherlands born and raised Double Dutch have won an award from Richard Branson for their innovative brand. I've tried their Indian tonic as part of my tonic taste test blog – which can be read here – which also has a slim version. But they also have a number of slightly different flavours…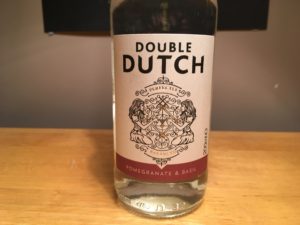 Pomegranate & Basil
Using the superfood pomegranate which straddles the line between sweet and tart, this is then topped with basil which lifts acidic flavours, this offers a complex and exotic taste to your cocktail. On it's own, it tastes like a slightly fizzy pesto – which sounds bad but actually is really quite pleasant. You could easily sip this all day long. On the advice of the internet, I've paired this with Monkey 47 gin (review of which you can find here) which pairs well and matches the peppery notes from the basil with it's own heat and spice. There's still a hint of sweetness at the back of the throat which lifts and cuts through the warmth. Its depth of flavour would usually make me think this was wintery – and the slight berry taste makes it work well on a cold afternoon – but the sweetness also means it's perfect for a summer evening. It also works with the more perfumed Monkey 47 Distiller's Cut (review here) with the sweet pomegranate balancing the earthier floral notes.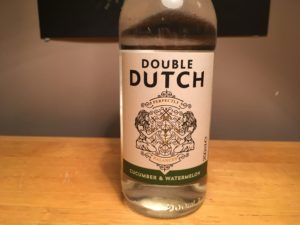 Cucumber & Watermelon
I worry that this tonic will be too watery as neither cucumber or watermelon have the strongest of flavours. They say that pairing this with gin or a light rum brings it a little warmth. This is a strange combination – you can taste both the fruitiness of the watermelon and also the water of the cucumber. I can't really work out if I like it or not. It tastes like the fizzy watermelon sweets, which is nice but a slightly unexpected flavour. It's recommended pairing is a citric gin so I'm having it with Brighton gin (review here). The nose is definitely stronger for the cucumber, and the watermelon notes have faded. But it's alright, perhaps not my favourite drink but one of these in a garden in the sunshine would be quite pleasant.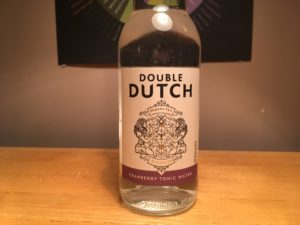 Cranberry Tonic
The sweet and sour blend of cranberry is mixed with ginger, adding a complex layering of flavours – summery aroma with a warm earthy finish. This flavour was actually created in collaboration with Maison Hennessy Cognac to work with a number of dark spirits. I'm not the biggest cranberry fan, but even on its own it is really nice – a slight berry flavour coming through but not too saccharine or overpowering. After some googling for inspiration, I mix this with some Opihr gin – although it's not a dark spirit, the spice works well with the cranberry. It's almost festive (probably because it's dark and cold outside) but the spice from the ginger in the tonic works really well with the gin. Big fan, two thumbs up.
Double Dutch also produce a soda water and a ginger beer.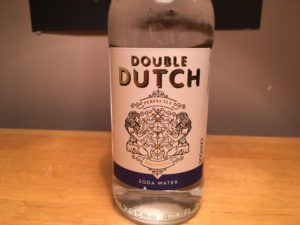 Double Dutch drinks are available at lots of online retailers and in a number of shops and hotels – a full list is available on their website. Make sure you find Double Dutch on social media – Twitter, Facebook and Instagram.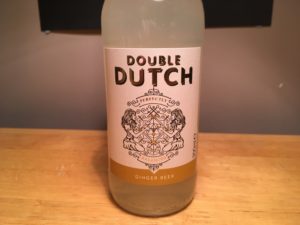 Which is your favourite flavour? Let me know on Twitter and Instagram.