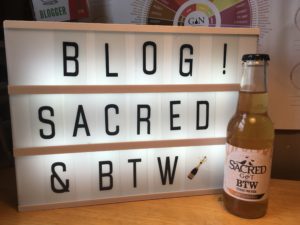 Remember the days of premixed drinks? My drink of choice as a teen was Smirnoff Ice, because I was classy. Nowadays, premixed drinks are making a comeback with all of the big brands and supermarkets getting in on the trend with tins of premixed gin and tonic (always go for the M&S pink gin FYI). Entering this market is the London-based collaboration between Sacred gin and BTW tonic. The bottle is certainly distinctive – the colour of BTW tonic comes from the use of natural quinine in their product. Sacred gin comes from the smallest commercial distillery and has quite the extensive range of flavoured gins to its name and this premix highlights the pink grapefruit to add a freshness and a bright citrus flavour.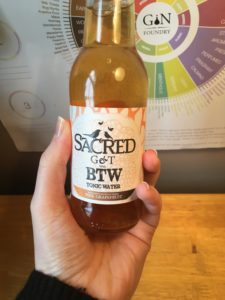 In the bottle it's slightly cloudy, like a carton of juice and it certainly smells like grapefruit. It's quite sweet – as you'd expect from a premix – but there's also a depth to it. Hints of vanilla and juniper permeate throughout along with fresh zestiness of the citrus. It really lifts it at the end and makes for a refreshing drink. Like most premixed gin and tonics, I think one or two would be plenty (and obviously because I always drink responsibly, one or two is all I would ever have as it is 1.8 units per bottle) due to the cloying sugary taste at the back of the throat. The BTW tonic certainly adds a woodier taste that you'd get in a Gordon's g&t, but it's not special enough that I would make this my go to, were it readily available.
You can get your hands on your own 9% Sacred G&T from Gin Kiosk for £3.50 per 20cl bottle (at time of writing). You can find Sacred on Facebook, Twitter and Instagram, and BTW tonic on Facebook, Twitter and Instagram.
What's your favourite premixed gin? Let me know on Twitter and Instagram.