Note: I found Stirling Gin on Twitter and they kindly sent me a sample. As always, you'll know if I don't like it.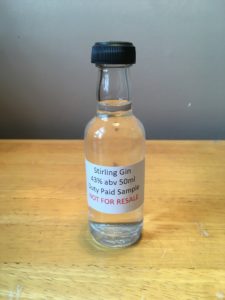 For those that don't know, I'm half Scottish. I love Scotland – especially this year when McLaren pride will peak in August when our clan marches in the final night of the Tattoo. I also love gin. So Scottish gin is a winner for me. Introducing yet another new Scottish gin, Stirling Gin was first distilled on 28 October 2015. They use local nettles which are distilled with basil, lemon and orange peel, juniper and angelica root to create their gin in Annie – the 450 litre copper still. They place some botanicals directly in the pot, and the nettle and basil are placed in a basket at the top. They list a number of recommended serves, including some fruity cocktails.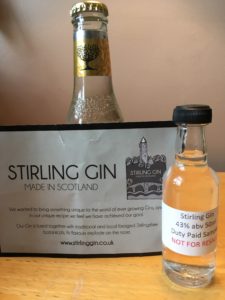 Cracking open my very pretty sample bottle it smells quite citrusy and opened up in the glass the more savoury notes from the basil and nettles (I presume) come through. Using my 50ml sample means imma try it neat, then mixed with tonic. Straight up it's warm on the tongue and has a depth to it at the back of the throat. Slightly tingly on the tongue, it has a smooth finish with what tastes a bit like chocolate notes.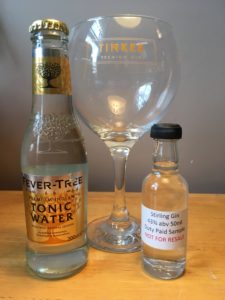 Mixed with Fever Tree Tonic, it keeps a warmth to it at the back of the throat, and it's certainly more savoury than sweet. I'm not 100% convinced by this. It is slightly cloying towards the back of the tongue and the taste is left in your mouth for a while. I'm a fan of fresh, light gins so I'm not always the biggest fan of a heavier gin. It's definitely a different take on a traditional G&T, and if you like a savoury gin then I think this will be up your alley.
A 70cl bottle of their 43% gin is available on Master of Malt for (at time of writing) £32.37. Personally, I'm not going to rush to buy this. It's a tad too deep for me, even on a gloomy Brighton day. You can find Stirling Gin on Twitter, Facebook and Instagram.
Have you tried Stirling Gin? Let me know what you think on Twitter and Instagram.