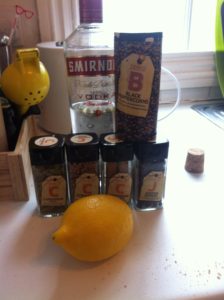 So one day I was browsing Twitter and came upon a tweet from the Craft Gin Club saying you can make your own gin. Obviously I was intrigued. Obviously I went straight to Tesco. As this was a test, I decided to halve the amounts so if it is gross I haven't wasted an entire bottle of vodka, or indeed if it works I can tweak the recipe and try again!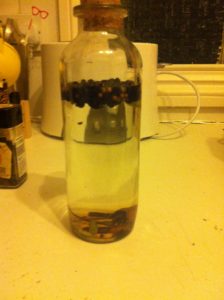 I decided to follow the basic recipe that they suggested on their website: vodka with added juniper berries, cardamom pods, coriander seeds, peppercorns, a cinnamon stick and lemon peel. I excluded the orange peel because bleugh. The recipe is based on the style of bath tub gin where the botanicals are steeped in the spirit rather than gaining its flavour through distillation. So don't worry folk, I haven't set up a still in my flat!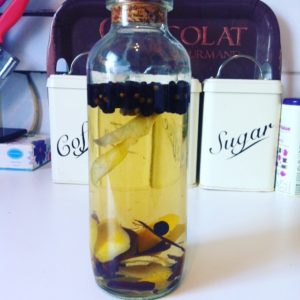 After adding my botanicals (minus the lemon peel) the vodka instantly took on a lovely fresh smell. The plan was to halve the amount of botanicals as suggested, but I went a bit heavier on the juniper and coriander as I am a big fan of those flavours. Then I left it in a dark corner of my kitchen and went to the pub. Over the next 24 I give it the occasional shake then add my lemon peel. God I love the smell of lemon. I put off trying it and wait until the next evening. Strained through a small sieve and muslin cloth, it is still a pale yellow colour – something that would disappear with proper filtering. Instead I settle on lea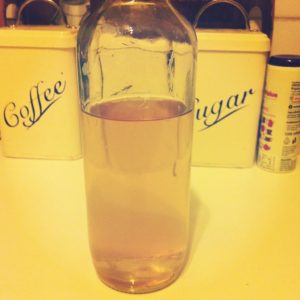 ving it a few more days for the sediment to settle and a further straining.
Smells really lemony and fresh and a hint of juniper. I worry I've overdone it on the zest and not put enough of the other botanicals in. But oh well this is an experiment. .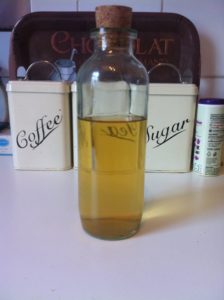 Finally, four days later I crack it open. Time to filter it once more. Which makes no difference as it still looks like dehydrated wee. I give it a try completely straight, no water. Oh my that smells like booze. Once in the Copa glass the vodka comes straight through. Yup. Tastes as expected, just like like acidic vodka. But I'm no quitter, and with an equal measure of water the harshness mellows slightly. It's not as bad as I anticipated. I definitely went too hard on the lemon and should have added more juniper and coriander seeds to balance it out. Not too bitter and not too sweet, it just tastes like a slightly warm lemon drink. Much more palatable straight than most gins I've tried. Rather more reminiscent of a genever with a slightly smoky taste (this could be from the cinnamon or from the effect that the warmer days are having on my kitchen). Whatever it tastes of, it certainly isn't vodka (hurrah) but feel the juniper isn't strong enough to legit call it gin(nifer)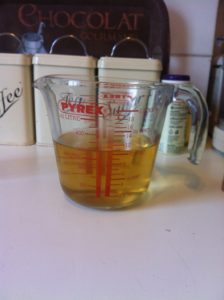 Mixing up a G&T (50ml gin and 100ml tonic) the gin loses its lemony taste. It's still there – and the smell is incredible – but the tonic adds an extra bitterness (note, I am using Tesco own tonic which is slightly more bitter than ,say, a Fevertree would be). Again, whilst it isn't unpleasant, there is nothing remarkable about it. I'm happy that I made this myself and didn't pay for it. The gin lacks enough flavour to stand up to the tonic, and the colour pales to look like a yellow-tinged wine.
All in all, not too shabby. I was certainly worried that I would make an undrinkable yellow liquid, but instead I made a perfectly fine yellow liquid. I mean I will certainly try again and alter the recipe. But for now this is fine. Tune in next time for Ginnifer #2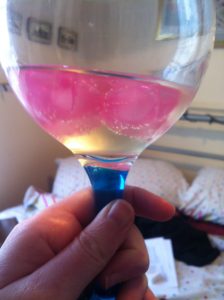 Follow my gin exploits on Twitter and Instagram! And why not make your own gin and let me know how it goes!