Note: I met Tiger Gin at  Imbibe Live and they were kind enough to send me a sample for the blog.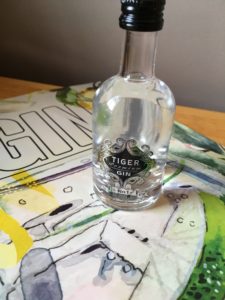 Tiger Gin is the product of JJ Lawrence (who starts emails with "Hi Tiger" FYI), a Shropshire lad with a passion for gin. He did what we all have thought about doing – wouldn't be be awesome to make my own gin? And, well, he did it. What followed was a lengthy court battle against a global brand (Tiger beer familiar?) to be able to use the name, but finally Tiger Gin arrived. Using botanicals such as juniper (from the Balkans), coriander seeds (Eastern Europe), dried sweet lemon peel (Spain), cassia bark (China), nutmeg (West Indies), cinnamon bark (Madagascar) and two secret ingredients all blended with 100% grain spirit and pure English water, this gin is a global product.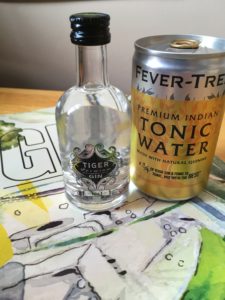 Opening my little sample bottle and it smells like a slightly heavy gin and tonic. A little musky and earthy perhaps, a smell which is sadly lost in the glass. A sip of it straight (no water thanks to 50ml sample bottles) and a chemically smell hits you in the nose and the eyes. It burns slightly on the tongue – a surprising result as it's only 40% and had such a nice smell to it at first.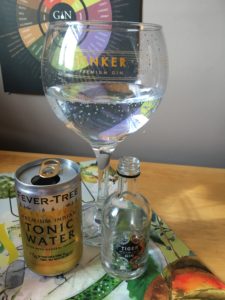 Mixed with a can of Fevertree the chemical smell and taste disappears and a woodiness comes back. There's a creamy quality to it, and a little hint of nuttiness on the sides of the tongue. The citrus kicks in at the back of the throat which leaves you wanting another mouthful (slightly in a good way, slightly in a my-mouth-is-really-dry way). It's not unpleasant at all, but there's something about it that isn't quite sitting right with me. I think it is perhaps the sugaryness that is throwing me off – it tastes slightly fake. Adding lemon massively helps this as the sourness helps to counterbalance the sugar. And mask the flavour a tad.
A 70cl bottle of 40% Tiger Gin is available on Master of Malt for £37 (at time of writing) and you can find Tiger on Facebook, Twitter and Instagram. Personally, it's not the gin for me, but if you do go ahead and get yourself a bottle, I recommend adding some lemon.
Have you tried Tiger Gin? Let me know your thoughts on Twitter and Instagram.