Note: I was kindly sent a pouch of 44ºN gin to try from BBBdrinks, but as always I'll let you know what I think. This blog post also contains affiliate links which are marked by [Ad] and if you purchase the gin through this link, I will receive a small commission.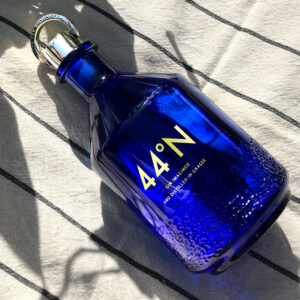 44ºN gin hails from Côte d'Azur in France and is named after the co-ordinates of their home town. They aimed to create a luxury spirit which reflects the Mediterranean coast, with the bottle is designed to reflect the bright blue colour of the sea as the sun starts to set. Based in a perfumery, they've been renovating the building and bringing together traditional distilling and new technology. They distil bitter orange with cade (a juniper variety from the Med), immortelle (a scrub plant which mixes dried fruit with hay), mimosa (no, not the cocktail, instead a sweet plant), verbena (for that lovely herby/citrus note), and Centifolia rose. They describe the taste as an "intriguing journey", so let's see what it's got.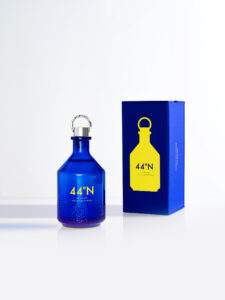 Opening up my sample pouch and you definitely get a waft of juniper and bright citrus. In the glass you're able to pick up some of the softer notes, that verbena bringing the gentle herbal tone. Adding a splash of water suddenly lifts up the rose – it wasn't there before but now the sweet perfume is filling my nose. To taste, it's definitely unique. It's woody and piney, that juniper being a strong underpinning of the flavours. Layered on top of that comes the citrus and floral notes, but it is predominately that green juniper.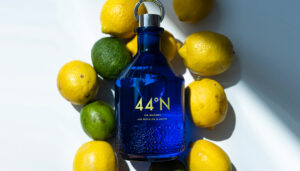 Going in with an equal amount of Fever Tree light, this does lose some of it's vibrancy. The bitterness of the tonic brings out a spiced, peppery note within the gin. As you keep sipping it, you can taste more than just the tonic and can start to get a more cohesive flavour. It's fairly simple, it doesn't change over time but what it delivers is a consistent, yummy flavour.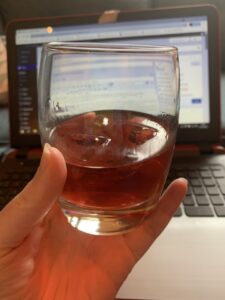 Due to the pepper and citrus, I decided this would be a good gin to try in a negroni. I used equal parts Cucielo Rosso (a new favourite, thanks to SJ for introducing me to them) and Victory bitters, and I'm impressed that it manages to hold its own against the bold additions. Interestingly, you don't get much of the pepper now, instead the lighter rose balances the bitterness perfectly. Cucielo is a really lovely vermouth in a negroni, it's not too harsh or winey and the candied orange and vanilla give a smooth feel.
You can get a 50cl bottle of the 44% ABV gin from [Ad] Spirits Kiosk for £74.95 (at time of writing). Let's get this out in the open: this is very expensive gin. Even if it were a 70cl bottle, it would be very expensive. Am I convinced it's worth the price tag? No. But is it very good gin? Yes. And it makes a bloody good negroni. If you wanted to treat yourself on something luxurious – which is the brand image they are going for – then this would be a winner.
You can find 44°N gin on Facebook and Instagram.
Have you tried 44°N gin? Let me know your thoughts on Twitter and Instagram.