Note: Charlie from BBB Drinks sent me some sample of Inverroche gin, but as always I'll let you know my honest opinion. This post contains affiliate links, marked by (Ad) which means if you click that to buy your bottle of gin I will receive some pennies.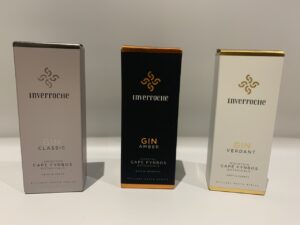 Inverroche gin hails from Still Bay, in the Western Cape of South Africa. Founded by Lorna Scott six years ago, the name comes from "Inver" – Scottish for a confluence of water – and "Roche" – French for rock or stone. Here in Still Bay, they have a rare ecosystem called fynbos which is home to 9,500 species of plant and vegetation. Lorna, during her stint as mayor, made friends with a local botanist and his wife and their knowledge and love for the area led her to experimenting with distilling these local plants. They believe that their gin is a social creation, not just involving their family but also the local community. 70% of their employees are indigenous women, meaning 45 local families benefit from the business. I have three of their gins to try, so let's get started.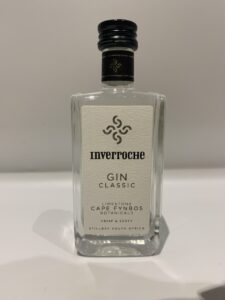 Gin Classic 
The first gin is their Gin Classic. Using the plants from the limestone rich soils, this gin is described as crisp and dry with green juniper followed by soft floral notes. It uses rose petals and buchu – an aromatic South African plant that is known for it's many medicinal properties. Opening up my mini and it certainly smells recognisably like gin. Juniper and citrus, with something green layering on top. In the glass that woody juniper hits you, and adding a splash of water gives it a thick, oily quality. Initially it's very gentle on the tongue then the juniper washes through. I'm not picking up too much rose, more a fragrant herby note.
Mixed with an equal amount of Fever Tree light and it's a little out of balance. There's a new sweetness to it that it didn't have before, but adding a splash more tonic brings the flavours back together. You get lots of juniper, but I'm still not picking up a lot of floral notes. There is something slightly mentholic to it, it tastes very vegetal and herby. After a few sips it settles down, and I think makes a nice change to the citrus forward gins that I would usually pick.
You can get a bottle of the 43% Gin Classic from (Ad) Spirits Kiosk for £38.94 (at time of writing)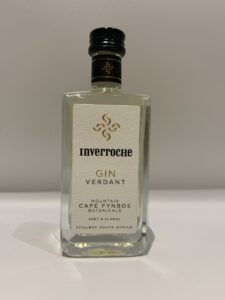 Gin Verdant
The Gin Verdant has a slight yellow hue and is bursting with fragrant elderflower and chamomile, balanced with lemon rind, warm spices and a hint of liquorice. From the bottle, this doesn't smell too dissimilar to the Classic gin, however in the glass you start to pick up the lightness of the elderflower, and a dash of water brings out the floral notes even more. Happily, to taste you still get a mouthful of bright juniper and just a smidge of warmth at the end.
Adding Fever Tree light tonic keeps its brightness, but also enhances the spice. It's an interesting mix of sweet and spiced, which feels like it shouldn't work but surprisingly does. A little extra tonic lengthens it out and makes it very moreish. The elderflower is just the right level to bring a sweetness to the drink, without making it sickly or syrupy. I think I prefer this to the Classic gin, which is unusual as I wouldn't plump for a floral gin normally.
You can get a bottle of the 43% Gin Verdant from (Ad) Spirits Kiosk for £38.49 (at time of writing)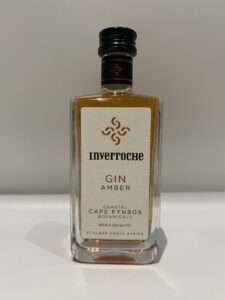 Gin Amber
The final gin of the range is the Gin Amber, so named for the rich caramel colour and which uses sour fig as its key botanical combined with citrus and juniper which leads to a toffee apple flavour. This has a deeper smell to it than the other two, smelling like a rich jam. A splash of water brings out an acidity on the nose which doesn't carry through to taste. It's smooth at first before an oak-like note at the end that builds up fairly quickly before fading just as fast. I wouldn't guess this was a gin if I had to blind taste it.
To taste it with tonic is almost like a fruit liqueur, fairly tart and sweet. Again, for my taste, adding a bit more tonic to the mix helps the balance between the bitter tonic and sweeter gin. I'm now slightly annoyed at myself for using the rest of my mini in a G&T as I think this would work well in a negroni or similar cocktail – perhaps even replacing a whisky in a recipe. I wasn't overly keen on this when I first tasted it, but after a time sitting and sipping it, it has really grown on me. It feels like a drink you settle in for a night with – and at time of writing it is tipping it down with rain so feel utterly appropriate for a cosy night in.
You can get a bottle of the 43% Gin Amber from (Ad) Spirits Kiosk for £38.49 (at time of writing)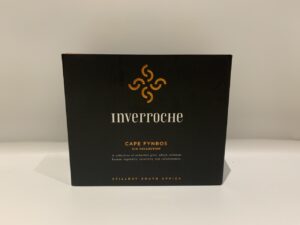 You can find Inverroche gin on Facebook, Twitter and Instagram.
Have you tried any of the Inverroche range? Let me know your thoughts on Twitter and Instagram.