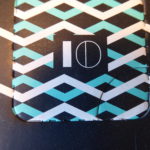 Last year during Ginvent we sampled Bishop's Gin and you can learn more about it here. I was lucky enough to be one of the few that received the special edition gin as not everyone did due to production issues. However, the special edition gin is marmalade flavoured. And we all know how much I LOVE orange… so this should be fun…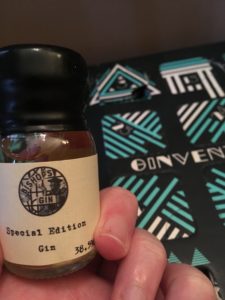 Straight from the bottle, the orange isn't as prominent as I feared it would be and there's still a good hit of juniper. In the glass you're able to see the slight orange tint to it, not quite water white but also not luminous orange. In the glass, I'm still not getting lots of orange from it. I'm starting to wonder whether mine is mislabelled? A sip of it straight and now I'm getting the orange along with what feels like a menthol hit – it's reminiscent of cough syrup but with a good hit of peppercorn on the tongue. Mixed with some Fentimans tonic and it's definitely citrus led on the tongue with a bitterness that almost feels like grapefruit at the back of the mouth giving it a level of tartness. The fire from the pepper fades away and other than the citrus, it's fairly unremarkable. Overall it is fine. Will I rush out and buy it? No. Would I ever guess it was marmalade flavoured? Definitely not.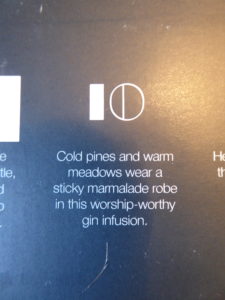 You can find Bishop's Gin on Facebook, Twitter and Instagram. I can't find their special edition gin online to buy yet, but you can buy their regular gin on Master of Malt for £35.07 (at time of writing).