Welcome to week two of Ginvent! At the quarter way mark we today try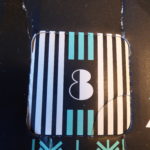 Sacred Cardamom gin. Sacred gin is apparently the only commercial distillery based in a residential house. Ian Hart had toyed with the idea of making a gin – specifically a London Dry style gin made in London by a Londoner – and in 2008 he made this dream a reality. Most gins are distilled in a pot still, but Ian used his science background to try a vacuum distillation process. This allows it to distil at a lower temperature and create deeper, richer flavours. After 22 attempts, the panel of taste testers down his local pub decided that try 23 was the one. Since then, the range has grown to include eight gins, two vodkas, two whiskys, three vermouths, a pre-made negroni and a rosehip cup. The gins available focus on a key botanical note, which today is showcasing cardamom. Of all the things I've learnt since starting this blog, my love of cardamom is probably the best. So this should be an exciting evening.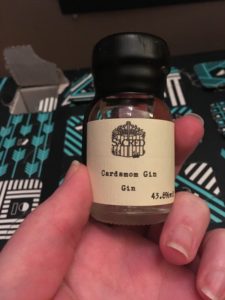 Straight from the bottle, the cardamom is instantly recognisable, hints of curry but with a citrus freshness to lift it at the end. In the glass the juniper comes out a bit, but is balanced well with the other notes. There's definitely a strong, citrus note that hits you right in the nose. A sip of it straight and the cardamom is there, BAM right on the centre of the tongue. It leaves a long, lingering finish and has a thick, almost honey like texture to it. A touch of ginger gives it a breath of fire. I'm mixing mine with Fentiman's tonic water and the lighter citrus notes come out. The cardamom and ginger tone down and the taste develops to a sweeter drink. Breathing out through your nose after a mouthful brings the cardamom to life again. On Twitter there are lots of suggestions to add a grapefruit garnish – which I think would work really well with the tart elements to help lift the balance – or mixing it with ginger beer to ramp up the heat. I was thinking about pairing it with Peter Spanton Cardamom Tonic, but it might just be a bit much.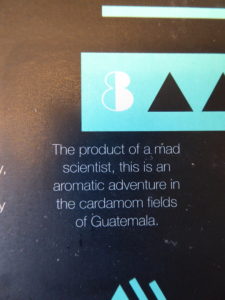 A 70cl bottle of the 43.8% Cardamom gin is currently available on Master of Malt for £33.95. Is it something I would go out and buy? Probably no, it's not something I think I would drink at home, but if I spotted it in a bar I would give it another go for sure. You can find Sacred on Facebook, Twitter and Instagram.