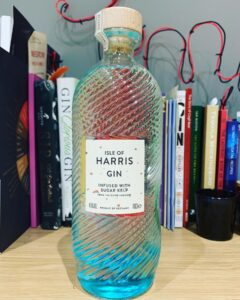 As a birthday treat, I decided I would like some fancy martini glasses. So I instantly turned to the Isle of Harris distillery. And because I was already spending money on postage and I have zero restraint, I also treated myself to a bottle of their gin. Even if you don't know much about the gin, I'm sure you recognise the beautiful glass bottle designed to reflect the ripples of the ocean. I met the team when I went to Edinburgh for International Scottish Gin Day in 2019 and they explained the irregularities in the curves are designed to fit perfectly in your hand. The Isle of Harris is in the Outer Hebrides, and the distillery is based in the small village of Tarbert.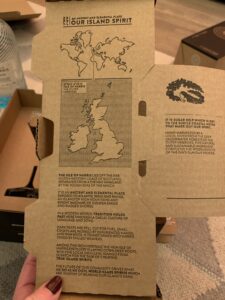 They are famous for their use of sugar kelp as their key botanical which is collected by hand from local sea lochs to ensure sustainability. The way they ensure this is by only picking the kelp if there is an 'r' in the name of the month – if not, then it is left to grow and recover. Alongside the sugar kelp are some more usual botanicals: juniper, cassia bark, coriander seed, angelica bark, cubeb pepper, liquorice root, orris root, and rounded off with bitter orange peel. These are distilled in a traditional copper pot before being bottled and labelled on site. They are unusual in that they don't recycle the heads or tails of their gin – whilst a lot of distillers redistill this, the Isle of Harris team get rid of it completely. It is more expensive for them, but for them it means they are only bottling the best of their product. They also use all cardboard packaging, covered in information about the brand which makes it extra special to open. So, how does it taste?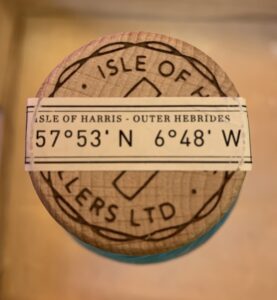 Opening up my bottle (featuring the distillery's co-ordinates on the cork) and you get a whiff of the sea. In the glass it's very clean, you get a hint of saltiness and a bit of juniper, but that's it. With a splash of water you get those bitter citrus notes coming through along with a hint of spice. This carries through on the tongue, the pepper becoming more pronounced throughout the mouth, and the citrus bringing a sweeter note. It's very delicious and moreish – which at 45% ABV is probably not the best idea.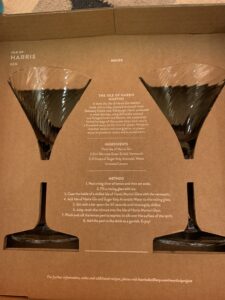 With equal parts Fever Tree light and you get that woodiness from the juniper that you'd expect from a quality gin. You get hints of orange at the back of the throat that brings some bitterness, with a savoury touch to it. The sugar kelp isn't over pronounced, not as salty as some other gins that feature seaweed-like botanicals. They suggest serving this with some pink grapefruit, which adds a lovely fresh acidity to it.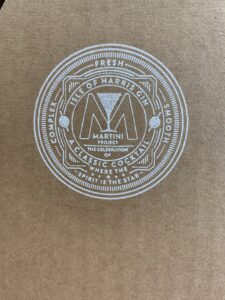 Their other recommended serve is in a martini. Now, I bought the glasses so obviously I want to try this. Their recipe is one of the driest I've ever seen, calling for 75ml of gin with just 2.5ml of vermouth – it might as well be a neat gin. I've gone dry for mine using 50ml gin to 10ml Dolin vermouth, my go to serve, with a sliver of grapefruit peel. I forewent the Sugar Kelp aromatic water because I might have no restraint but I'm not spending £20 on a tiny bottle of it. This martini is rather lovely, I do think perhaps the Dolin needs to be pulled back a tiny bit to allow the more delicate flavours from the gin shine through, but it's clean and crisp and everything I want from a martini.
You can buy a 70cl bottle of the 45% ABV Isle of Harris gin from their website for £37 (at time of writing). You can find the team on Facebook, Twitter and Instagram.
Have you tried Isle of Harris gin? Let me know your thoughts on Twitter and Instagram.