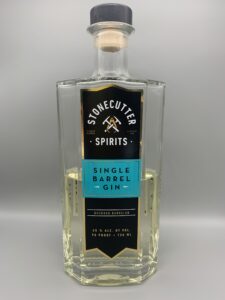 Stonecutter Spirits are based in rural Vermont, in a 12,000 sq foot distillery overlooked by mountains. Situated as it is, their weather frequently changes humidity, temperature and pressure, and here they set up their distillery where they create whiskey and barrel aged gin. The gin is not only gluten free, but also certified Kosher, made with cardamom, orange peel, juniper, liquorice root and coriander, plus unusual botanicals rose petals and green tea. The botanicals were picked to complement the Kentucky bourbon barrels and enhance the caramel notes; they say that the barrels help bring the flavours together and blend the cardamom, orange and green tea. In 2019 their gin won a Double Gold at the San Francisco International Spirit Awards, so let's see how it holds up.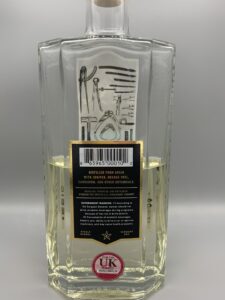 Opening my bottle and the bottle makes a VERY satisfying pop, and I would like to take this opportunity to say the bottle is a very pleasing size and shape to hold. On the nose, it has a whiff of salty, caramelised popcorn – and a lightly golden hue that makes me think they just dropped a bit of golden syrup in it. In the glass you can start to pick out the juniper, and the cardamom starts to shine through with the addition of cold water.  On the tongue it's far earthier than I expected, when I've had American gins before they don't usually taste like actual gin, but this is definitely in the right ball park. Barrel aged gins aren't really my thing, but this hasn't imparted too much sweetness or smokiness, it just enhances the sweet citrus tones and blends in the cardamom spice to a lovely mouthfeel. I'm already imagining this in a negroni.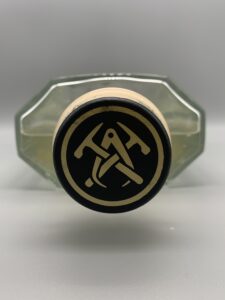 Mixed with tonic and luckily those rich, whisky-like notes shine through. It doesn't have the heaviness of actual whisky, but those beautiful smoked notes are front and center. There's a touch of sweetness, but nothing overwhelming, it's just hints of caramel running throughout but it is definitely drinkable.
Mixed into a little negroni with Discarded vermouth and Victory bitters, the warmth of the gin works perfectly to bring a hint of smoke, and the sweet side of it balances the bitterness.
As of November 2020, Stonecutter Spirits is under new ownership. Keith and Matt Berg acquired the company and are committed to keeping the brand based in Vermont and are restarting production of Stonecutter gin. (Thank you Amy for getting in touch with the update, a previous version of this stated that production had permanently stopped, and then was on hold pending a restructure).
Have you tried Stonecutter Spirits gin? Let me know your thoughts on Twitter and Instagram.