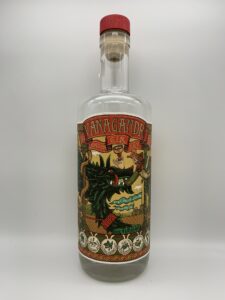 Vanagandr gin is the product of Enrique Pena, who left his career in business to set up and build his own distillery from scratch. Made in the autonomous community Galicia in northern Spain, he distils his gin in super small batches of 440 bottles at a time. Alongside the usual suspects juniper and angelica root, he also adds in sweet orange and lemon peel, green cardamom, nutmeg, cassia and ceylon cinnamon. The gin is then blended with fresh water sourced just 100m from the distillery. As well as handpicking his botanicals, Vanagandr gin uses a base spirit which is 100% wheat which, combined with the 14 hour slow distillation process, produces a rich gin with a soft finish.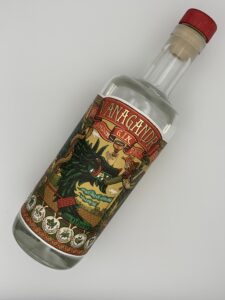 Opening my bottle and I'm picking up a saltiness, like you've opened a jar of juicy green olives and you just get a hit of brine. In the glass you can pick out some earthier juniper and a tiny hint of citrus around the edge. Leaving it to sit for a moment brings out the essential oils of a soft lemon. With a dash of water it looks more viscous, leaving long legs around the sides of the glass and on the nose bringing that juniper right to the front. On the tongue it is fairly mellow at first, then you get a tingle at the back of your gums as the spices build and gently take over your mouth, before fading away. It's a long finish, it really lingers on the tip of the tongue. A second sip brings bright lemon juice hitting the roof of your mouth. It's complex, yet so familiar – all the while it's rooted with the juniper.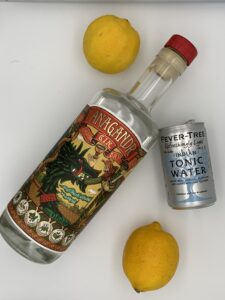 Mixing it with some Fever Tree light tonic and you start to get a softer perfumed side to it coming through. Juniper led with a hint of citrus, yes, but there's a lightness to it that I associate with lavender. It's not soapy, but leaning that way. This is counteracted by a bitterness at the back (probably more from the tonic than the gin) and the earlier spiced notes have dialled down to a more cohesive, consistent flavour. For a random bottle courtesy of my old gin-judging-organising housemate, not too shabby.
You can buy a 70cl bottle of the 43% ABV gin via their website where it is currently €33 however they don't seem to ship to the UK. You can find them on Facebook, Twitter and Instagram.
Have you tried Vanagandr gin? Let me know your thoughts on Twitter and Instagram.