Happy Ginuary! As part of Tryanuary, The Nightingale Room over the Grand Central in Brighton hosted a series of free gin tastings. Right up my alley. So last Thursday, off we went to see what is was all about.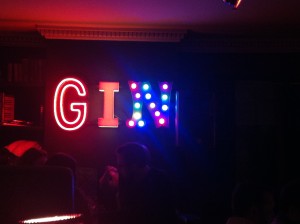 The Nightingale Rooms are nicely decorated, but very red (hence why all my photos are red, or horribly bright from my phone flash). With tables around the outside of the room, the middle was taken up with four large tables crowded with bottles, glasses and garnishes. Claiming a huge table for the two of us, we quickly made friends with the group that joined us. Up steps our leader for the evening, and what commences was great fun. Not so much a tasting, as a quick history of gin and lots of free gin and food.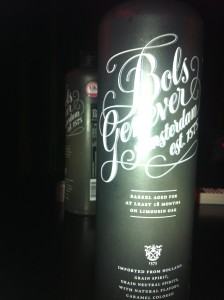 Our tables are full of Fever Tree tonic, and our first tasting comes in some beautiful champagne saucers filled with Bols Barrel Aged Genever. I've had genever once before in a cocktail, so it was a treat to have some served up. Straight in the glass it's very warm and "woody" (Anderson, C. 2016). It smells a bit like cinnamon, with a strong flavour and a very grown up taste. Strong on the tongue, with a heavy flavour and is quite heady. This barrel aged genever is reminiscent of whiskey – perhaps a gin that my sister might finally like! Mixing it with a dash of tonic, the smell is less intense and the flavour mellows out. Less harsh and slightly fruity – it maintains the heady smell but a lighter flavour. It is distinctively different to normal gin, and not in a bad way.
Whilst we're sipping our genever, the second gin gets handed around.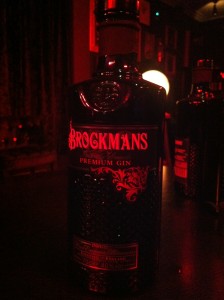 This time it is Brockmans – a gin that I've tried before and enjoyed, but sadly this time not as much. Straight in the high ball glass it smells chemically and fruity, like Sibling Gin it uses blueberry as a key botanical. Once the gallon of ice they provided melts, it has light fruity notes and a dry finish down the throat. With the tonic, the chemical smell disappears and it settles down. It lacks character and tastes plain. I like big bold flavours and this lacks that. Catriona has a different opinion: "I like it but it tastes like an alcopop. I'm into it (said by my inner 15 year old). I can imagine drinking this in summer on the beach possibly from a tin."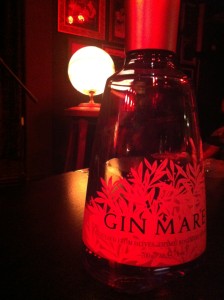 Passing my Brockman's onto Catriona to enjoy, our third gin arrives garnished with a olive, lemon wedge and rosemary. Welcome to the table Gin Mare. Initially the rosemary over powers the smell of the gin – the copa glass doing exactly what it is designed for, funnelling scents up into your nose. With the rosemary removed it has a clear smell with no botanical standing out. On the tongue it's clean, a slight salty taste coming from the olive. It's bright and fresh. With tonic it's fresh and crisp. Again no one flavour is coming to the front but in a good way. Brockmans lacked flavour and tasted a bit bland whereas this is just a well balanced gin that goes really well with chorizo and prawn skewers (which we were conveniently given, yes the free gin tasting also provided free food).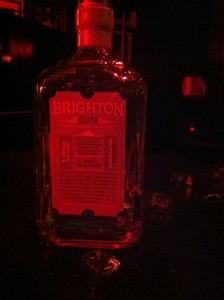 Then we come to gin four. Brighton Gin. Big big fan. We all know my love of this gin, the gin that started this blog. The Grand Central serves it with a piece of Brighton Rock. Whilst I appreciate the utter Brighton-ness of this. I hate rock. Mine was moved into Catriona's glass super quickly, and a mouthful of hers resulted in me going "mmmmm thats OH GOD BLEUGH EUGH EUGH EUGH EUGH EUGH". Which she found amusing. I spent the next five minutes screwing my face up. God I hate peppermint. But that aside, beautiful beautiful gin.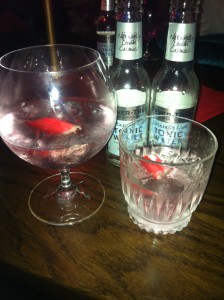 All in all, for a free night out, we had a great time. Did I learn anything? No. Did I find some new gins? Yes. Whilst I won't be rushing to get me a bottle of Brockmans anytime soon, I definitely want to do some more research into genever and give that a good go, Gin Mare was delightful and I definitely need to replenish my supply of Brighton Gin!
All the gins we tried are commercially available and online: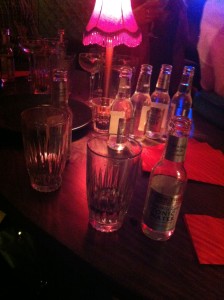 Bols Aged genver: buy it, like it, follow it
Brockmans Gin: buy it, like it, follow it
Gin Mare: buy it, like it, follow it
Brighton Gin: buy it, like it, follow it