Note: I contacted Tyree Gin to see if they would send me a sample for the blog and they were kind enough to do so – as always, I'll be honest about what I think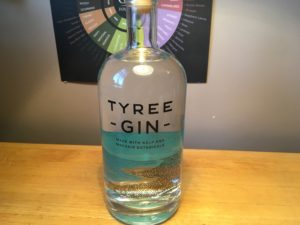 Tyree Gin hails from the Hebridean island of Tiree (go to Oban and go west past Mull and you reach it). Tiree is only 12 miles long but three miles wide, and very flat. They do however seem to have lots of local botanicals on this small, windy patch of land in the sea. The soil on Tiree is what is known as machair – a combination of soil and sand, unique to Scotland. From here they gather eyebright (a flower that can help eye infections), Ladies Bedstraw (yellow flowers that smell slightly of honey), Water Mint (a form of mint…that grows in water…) and Angelica, combined with local kelp from the Atlantic Ocean. Their kelp forests are the fourth largest in Scotland don'tcha know. So, you've probably noticed that Tyree Gin is not spelt the same as their island namesake. Well, Tyree is the original spelling of Tiree's Post Office – dating back to 1802. But it was changed in 1889 to avoid confusion with Tyrie in Aberdeenshire. So that's that.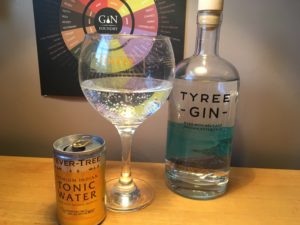 Opening my bottle (which, FYI, has a beautiful label and will be taking prime position in the bar), it smells slightly like the sea but with some lemon added. In the glass the savoury notes open up and there's a light hint of floral aromas hanging around at the top of it. Mixed with some fresh water it has quite a fiery taste on the tongue initially with a  slow finish that leaves you tasting like you just had a polo in your mouth. It's very warming – although at 40% I'm not sure that this is ABV warmth but rather a botanical warmth. There's a hint of honey on the sides of the tongue and it has quite a complex taste, it evolves in your mouth hitting lots of different tastes as it does so.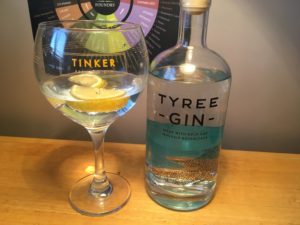 So, how does it hold up with tonic? Using my favourite tiny cans of Fever Tree as a benchmark, this is really quite delightful to drink. The tonic doesn't drown the gin or mask any flavours (I'm using 50ml gin to 150ml tonic), and although the vibrancy of the flavours is toned down slighty (understandable) they're all there. An initial warmth on the tongue, with a sweeter side note and ending with a fresh finish. It's dry and leaves your mouth wanting more, but not so dry you reach for water instead. Has the kelp has truly added anything? I'm not sure, but there is a slight savoury hint to it – which I'm glad isn't too strong as the sea salt thing is not my favourite trend in gin.
I decided to jazz mine up a bit with a lemon slice which adds a new dimension, but I think I'm actually just as happy without the lemon as I am with it. So, basically, I'm a fan. Go buy some of this and I (hope) you won't regret it!
A 70cl bottle of the 40% gin is available on Master of Malt for £35.56 (at time of writing). You can find Tyree on Facebook, Twitter and Instagram.
Have you tried Tyree gin? Let me know what you think in Twitter and Instagram.