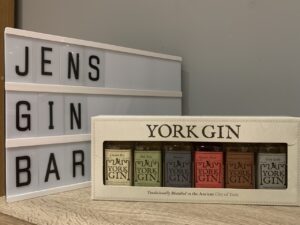 Today I venture to what I think of as the 'flavoured gin' side of the York Gin Tasting Pack. The Grey Lady gin, like all of their range, takes inspiration from the city's history – did you know that York is regarded to be Europe's most haunted city? The most famous of these is the Grey Lady – a nun who broke the rules of celibacy by falling in love with a nobleman so was bricked up in her room and left to die (delightful). She now lingers in that spot – which happens to be the dress circle of the Theatre Royal (that's one cultured ghost).
To make the Grey Lady gin, they distil the London Dry with Earl Grey tea and some extra lemon and orange peels before being infused with blue pea flower. Whether this adds flavour or not, I don't know, but apparently it gives it a "ghostly blue-grey hue" (not gonna lie, mine looks crystal clear so far). Furthermore, like all their other gins, this has also won a number of awards including a Silver medal at the International Wine & Spirit Competition.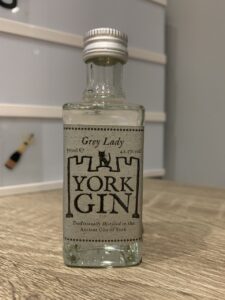 Opening my bottle and the extra citrus drifts up to you alongside that perfumed, smoky note of the tea. In the glass this opens up, the aromatic tea filling your head space. A splash of water helps bring those sherbety citrus notes back to the fore. To taste it's not as 'flavoured' as I anticipated/worried it might be. The gin is really well balanced, not becoming too floral thanks to the citrus (complemented by the bergamot in the tea) and that gentle spice note I've come to expect underpinning it all.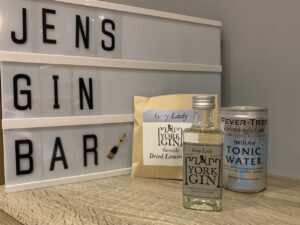 They recommend serving this with Fever Tree light tonic – FYI, my drink is still crystal clear – and I've initially gone with a 1:1 ratio. This brings the spice back into the picture from the London Dry base and the fragrance from the tea adds a little something extra. Adding an extra dash of tonic helps lengthen it and dial down a touch of bitterness. Overall, I think this is really nice. So, controversial statement: I don't like tea. Sorry (not sorry). So I was a bit worried about this gin, thinking it would perhaps be overpowering. But it's really not. There's enough there to add flavour but not so much you verge into soapy or heady.
The recommended garnish here is dried lemon peel and BOY are the pieces they supply huge! I ripped one in half and the intense smell that comes from it is so inviting. This is the first dried garnish that has added something to the drink – well, the flavour isn't that different but adds such a lovely scent as you lift it to your face.
You can get a 70cl bottle of the 42.5% ABV gin from the York Gin website for £39 (at time of writing)