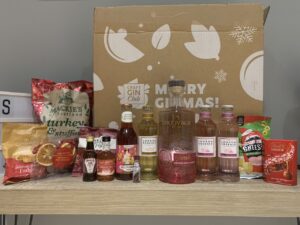 It's the most wonderful time of the year….aka Christmas! And what does Christmas mean? It's Craft Gin Club delivery time! This month's bumper box contains a festive special edition of Kirkjuvagr gin. I have tried their Origin and Aurora gins in the past, and since then they've had a rebrand and have some rather stunning new bottles. Based on an island which is closer to the Arctic circle than it is London, their home is important to them. Not only are they inspired by their Viking ancestry, but they are also lucky enough to pick their own native angelica on the island. For this Christmas edition, they carefully selected Aronia berry (also known as the Viking berry) alongside festive spices cinnamon, cloves, ginger and nutmeg. Because it's Christmas, they also add some frankincense and myrrh – although the only gold you'll see here is on the bottle. To balance all the spices, they add rose hips and three types of rose – Burnet, Ramanas and Red roses.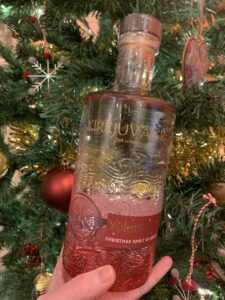 Opening my bottle and it smells surprisingly boozy – it's 40% ABV but smells higher. Getting past the initial hit of alcohol you start to pick up those jammy berry notes alongside some warming spice. Diluting it with some water softens the edges, but to taste you get a blast of ginger on the top of your tongue. For a gin with such a hefty botanical list (25 to be precise), it's not overwhelming to taste. The spice is the leading flavour for sure, but it's not too heavy. The ginger helps keep it bright rather than being too headachey. The woodiness from the frankincense and myrrh helps tie it all together.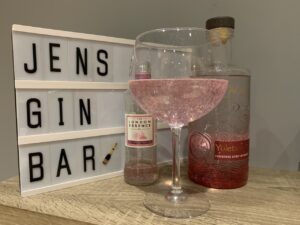 Their recommended serve is 50ml gin with 200ml of London Essence pomelo and pink pepper tonic, which tbh turns my drink a far more neon shade of pink than I would usually like. On its own the tonic is pretty sweet with a good level of tart citrus, although no discernible pepper. As a g&t, the low level of spice that you can taste under the tonic does help balance the sweetness. Personally, I'd use half the amount of tonic (I usually go 1:1 or 1:2 ratio) to allow more of the gin to shine through. The pomelo in the tonic pairs well with the citrus in the gin.
The gin is currently exclusively available to Craft Gin Club members, but you can find the rest of the Kirkjuvagr gin range on their website. You can find the Kirkjuvagr gin team on Facebook, Twitter and Instagram.
Have you tried Kirkjuvagr gin? Let me know your thoughts on Twitter and Instagram.