Note: Bruce at Brentingby  gin kindly sent me a sample to try, but all the opinions below are my own.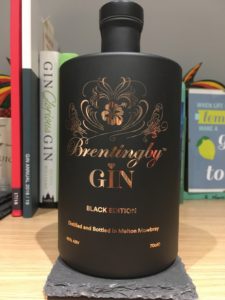 What is Brentingby gin?
Brentingby distillery sits in the Leicestershire countryside, distilling and bottling in Melton Mowbray (halfway between Leicester and Nottingham). The team came up with the idea to make their gin back in 2015, and after three years of development which involved training with master distiller Tom Nichol (of Tanqueray gin) and building a distillery with a 10 plate copper still, they made their first batch of gin in the summer of 2018. Bruce grew up on the Durban coastline of South Africa and wanted to bring this into his gin; they use hibiscus as ab botanical and a feature on the logo and they named their still Ayanda which is proliferation in Zulu. Ayanda is powered by sustainable wind energy from the wind turbine based next door and ties into their care for sustainability. Since the launch of their London dry gin, they have also released a pink gin (no raspberries here, instead they use rooibos and baobab) and the black edition gin that I am trying today. This gin features botanicals ginger, lime and meadowsweet – they say this brings spice and warmth, so how does it taste?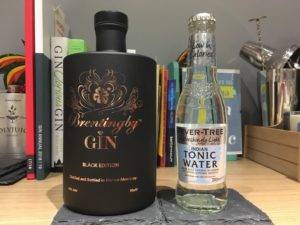 Brentingby Gin tasting notes
Opening my bottle and there is just a hint of spice. In the glass there is juniper and a sharp, citrus note. With a touch of water some softer notes appear, a hint of elderflower and a gentle pine. On the tongue the lime is noticeable, and a hint of fire at the edges of the tongue. It is very smooth and easy to drink (although as a warning, whilst the bottle is beautiful it is quite heavy and I'm already worried about it slipping from my clumsy fingers). The ginger perks this up to give a really pleasant mouthfeel, it's not too much, it's just enough to tickle your tongue. The feeling lingers, it's a slow fade but not one that leaves a cloying taste in your mouth.
Mixed with Fever Tree light tonic, the balance stays – I often find the bitterness of the tonic can throw the flavours off but this works perfectly together. As gin and a tonic should. You can still sense the lime which gives the whole thing a lovely freshness. The lime really stays with you, despite the black bottle this feels like a lovely summer drink.
Where can you buy Brentingby Gin?
You can get your hands on a 70cl bottle of the 45% ABV gin from their website for £36.95 (at time of writing). For me, this is pretty good value. You are getting a cracking gin with just a hint of something special, at not too high a price. It is definitely at the upper end of the price range, but I think this is a great addition to your collection. You can follow Brentingby Gin on Facebook, Twitter and Instagram.
Have you tried any of the Brentingby gin range? Let me know your thoughts on Twitter and Instagram.