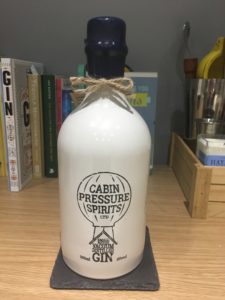 We've all heard of small batch gin where small teams hand craft their gin and run the whole business from their homes. Cabin Pressure gin is about as small as it can get – a husband and wife team working out of their garden shed in Horsham; indeed when we met David at the Sussex Festival of Gin, his wife was frantically bottling the next batch back home as they didn't have enough stock for the coming week. They're able to distil their gin in their shed as they use the lesser used method of vacuum distilling which allows them to distil at a lower temperature and generally in a much safer way. Due to the lower temperatures, they manage to retain more flavour from their botanicals. Talking of botanicals, they use just six of them, all of which are either organically cultivated or organic wild harvested. They use juniper (obviously) along with green cardamom, angelica root, ginger, liquorice and coriander, unusual perhaps in that it lacks a citrus fruit.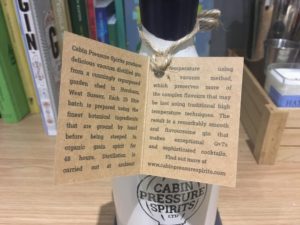 Opening my bottle is slightly heartbreaking as it is so beautiful, but I find the strength to carry on and ease the cork out of the bottle. The smell that greets you is delicious, pine fresh and welcoming. In the glass, the scent almost disappears, but by adding a splash of water the earthier notes come forward. On the tongue it is incredibly light and sweet at the front before the deeper notes develop and travel to the back of your mouth, leaving a small tingle on the tip of the tongue.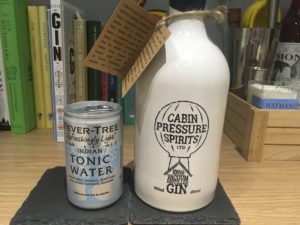 Mixed with an equal amount of Fever Tree light and the bitter notes are pronounced at the back of your throat and the flavour profile changes completely from when it is neat. There's an almost jammy quality to it, it's rich and sumptuous whilst keeping the spice right there in the front of your mind. By adding an extra splash of tonic, the dilution dials down the spice and makes the sweeter notes reappear. Considering there is no citrus fruit in this, it has the tartness that comes with fresh lemons (although, FYI, adding lemon wedges to this brings it alive).
You can get your hands on a 50cl bottle of Cabin Pressure from their website here for £34 (at time of writing). I don't know if you can tell from my rant above, but I love this. I can think of no greater compliment than to admit that this is the first gin I have actively paid for in about two years. So. Go get some. You can find them on Facebook, Twitter and Instagram.
Have you tried Cabin Pressure gin? Let me know your thoughts on Twitter and Instagram.