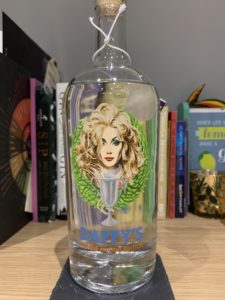 If you know your gin, you should have heard of Daffy's gin – I actually reviewed it at the end of 2017. Before I had a chance to try their gin, they actually released a limited edition gin (thanks to Gin Foundry's HQ clear out I got myself a bottle) in partnership with Formula 1's Manor Racing. Their already striking label gets a jazzy upgrade with a winner's wreath and trophy, and so does their recipe. They didn't want to start from scratch, so taking inspiration from their original eight botanicals, this edition features including Lebanese mint and fresh Spanish limes – the goal was to create something fresh and exciting. They produced just 2,500 bottles of this release, and sadly the team it was produced for has since gone into administration. So basically, I'm trying a gin that you can't buy, that's four years old, and made for a team that don't exist. Don't say I don't keep on top of all the news in the gin world. So, even though you probably can't try it, I can.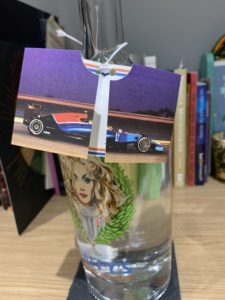 Opening my bottle and it smells very fresh and vibrant. In the glass it loses some of the potency and just becomes very clear and clean, not even picking up any ethanol. With a dribble of water the citrus notes start to poke their heads out, swilling it around the glass leaves very good legs and has a thick mouthfeel to it. You get tickles of peppercorn on the tip of your tongue, before a sweeter note comes through, then finally the mint kicks in. Now, I don't like mint. Usually if a gin has mint in it, I find it too toothpastey for my liking. But this is quite gentle. You can definitely imagine drinking this on a sunny summer's day.
With some light tonic, it keeps the freshness. It's very light and easy to drink, but leaves a long finish in your mouth from the mint. Lengthening it with a splash more tonic makes it delightful (I mean I have 50ml gin and about 75ml tonic so it's still pretty strong). Whack in a few ice cubes and some garnish and this is a perfect drink to enjoy outside. It's different in the dark under a blanket, but a delight.
The 43.2% gin is unavailable which is a real shame, but you can find Daffy's on Facebook, Twitter and Instagram.
Were you able to try the Manor Racing edition? Let me know your thoughts on Twitter and Instagram.