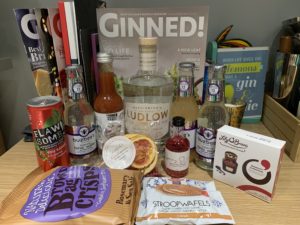 After last month's special box, this month I received my regular Craft Gin Club delivery. The boxes have come a long way since I first joined, and this month we received a bottle of Wardington's Original Ludlow gin which has been exclusively distilled for members, along with three bottles of Buzbee's tonic, a spiced tomato mix, stroopwaffles, cocktail syrup, fruit juice, dried garnishes, crisps and chocolates. As the name suggests, this gin originates from the historic town of Ludlow (Welsh borders) from distiller Shaun Ward, who sports a bold moustache. An organ player by training, he launched Ludlow gin in 2018 as a juniper forward, classic gin and since then have launched three more gins, a coffee liqueur and a triplecello – like limoncello but with lemon, orange and pink grapefruit. This box contains their fifth gin, a limited release paying homage to the Welsh countryside in the springtime. Taking inspiration from traditional elderflower cordial, Shaun experimented with distilling elderflower and chamomile but knew his recipe wasn't quite right. When visiting a country show at Malvern, he overheard some producers talking about the virtues of lemon verbena; after a chat and a taste, he knew he had stumbled upon his missing ingredient. So, how does it taste?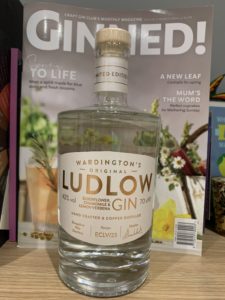 Opening up my bottle and it's very citrus led, with that piney juniper following through. In the glass, once you get past the hit of ethanol, the softer notes linger on the nose allowing the elderflower and chamomile to shine, like a night time tea. With a splash of water it becomes very clean and crisp, with that slight herbal sense from the lemon verbena becoming noticeable. It is surprisingly sweet in the mouth, but not in a fake saccharine way, it's the sweetness you get from elderflower cordial. I don't normally like floral gins, but it's not too perfumed or soapy which is the problem I usually find. A few sips in and the earthier juniper stands out, grounding the flavours.
Cracking into the Buzbee's botanical tonic water supplied in the box (and touted as the perfect serve, which on its own doesn't taste like normal tonic, probably thanks to it being sweetened by honey) as a 50/50 serve, and I'm not in love with it. It's simultaneously sweet and bitter, and not in a good way. Adding a splash more tonic lowers the bitterness, but the sweetness is becoming quite cloying and I can't decide if it's the gin, the tonic, or the combination. So, new drink made with Fever Tree light and the bitterness remains but overpowers the sweetness. Adding more tonic and I'm not convinced this gets any better. To be honest, this might not be the one for me. I definitely preferred it neat as I think with tonic it just doesn't balance well. I think it would work well in cocktails, but even adding more tonic (I'm now at about 1:3) it just becomes very sweet. I've really enjoyed the boxes I've received recently so I'm sad this isn't to my tastes – but for people that aren't big fans of juniper then this might be for you. Which is a shame as their normal gin is meant to be all juniper and I think I would enjoy that.
You can get a bottle of the spring Ludlow gin by signing up to Craft Gin Club – if you use this link you save £20 on your first box (and I get money off my next box too). You can find Ludlow gin on Facebook, Twitter and Instagram.
Have you tried any of Ludlow's gins? Let me know your thoughts on Twitter and Instagram.