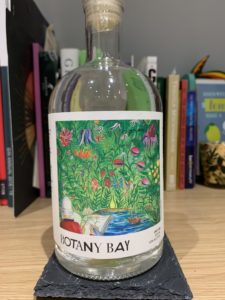 Nearly 18 months ago I was excited to collect the keys to my new home. I was excited because at said new house was a bottle of the Four Pillars x Herno collaboration, Dry Island gin (which, if anyone is interested, is one of my favourites ever). For that gin, the Four Pillars team incorporated some of Herno's key botanicals into their process. Today, we try Botany Bay, the next release which sees Australian botanicals make their way to Sweden to join Herno's distillation. Fun story: the first Swede to circumnavigate the world was botanist Dr. Daniel Solander who was so taken with the variety of flora he found down under that he named the landing spot Botany Bay. Inspired by this history, Herno uses their signature botanicals meadowsweet and lingonberry and combines them with Australian wattleseed, Tasmanian pepper berry and lemon myrtle. Before we taste the gin, I think we should just take a moment to appreciate the label which ignores Herno's simple label tradition and is a bright, colourful picture of Dr Solander's adventure (Dry Island had a label very in line with Four Pillars' branding). So, do the contents live up to the label's (and its predecessor's) standards?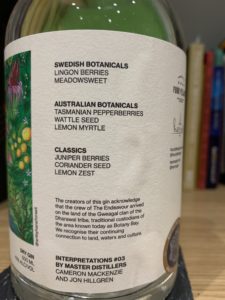 Opening up the bottle and an interesting aroma hits you, juniper certainly, alongside something reminiscent of vanilla and something very familiar that I can't place that sits somewhere between aniseed and black tea. Having quickly Googled wattleseed, it apparently has a coffee/nutty taste so perhaps that is what I am picking up. In the glass you get a sense of grass and hay and a big herb patch. It's rather inviting. A splash of water brings out the citric notes and on the tongue the jamminess of the lingonberry starts to come through – more as a mouthfeel than anything else. The meadowsweet brings in the mentholic aspect but it's very well balanced, a sweetness coming in at the back of the mouth that gently turns into a wash of peppercorns. Pairing pepperberries (known for starting fruity before turning peppery) with the lingonberries works well considering the two grow nearly 10,000 miles apart. At 43% ABV it's not the strongest gin on the market, but it is insanely easy to drink neat. Which never ends well.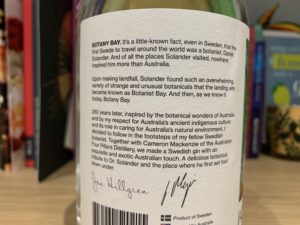 Moving on quickly to adding some tonic, and for a gin that is very smooth and gently flavoured, it holds up against the tonic. You do get a hint of the bitterness from the quinine, but what shines here is the soft citrus, the hints of juicy fruit, a sprinkling of pepper and fresh rain (that I've come to associate with coriander seed). Overall, I'm a fan of this. On a second and third visit, the flavours amp up, but it's nothing overwhelming. More of the meadowsweet comes through on repeat tastings, but this just adds to the flavour. Overall, I'm sad this is a 50cl bottle as I imagine this will go fairly quickly.
You can get your hands on a 50cl bottle of the 43% gin from Master of Malt for £41.95 (at time of writing). This definitely makes it one of the more expensive gins in my collection, but I have terrible impulse control, and luckily it turns out to be delicious. You can find Herno on Facebook, Twitter and Instagram, and Four Pillars are also on Facebook, Twitter and Instagram.
Did you get your hands on a bottle of Botany Bay gin? Let me know your thoughts on Twitter and Instagram.