Note: This post contains affiliate links marked as [Ad], if you click on this and buy a bottle of gin then I will receive a small commission.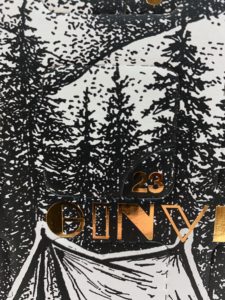 Well, we've nearly made it. Just two days left to go and after four gins from South East Asia, we travel even further afield to the east coast of Australia. Manly Spirits burst onto the scene in April 2017, but I feel like 2019 was their year here in the UK. I had already tried their Coastal Citrus gin earlier this year and then I met them at Junipalooza and got a quick tasting of this edition (which was filmed for their Instagram and not at all embarrassing). Their Australian Dry gin uses native botanicals sea lettuce, anise myrtle, orange peel, pepper leaf and finger limes and they say this brings fruity peppery notes to the gin. It's worth noting that in the two and a half years since launching, they have not just those two gins, but also the new Lilly Pilly Pink gin and a barrel aged gin and two vodkas and a limoncello AND a coffee liqueur. So, they've been pretty busy. But have they put quantity over quality? Let's find out!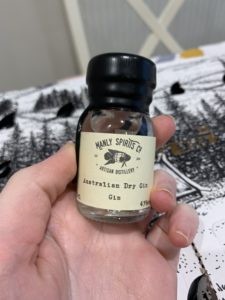 Opening the penultimate bottle and you get juniper and that rich aniseed botanical coming through. In the glass, a touch more pepper is detectable along with something green and leafy. A sip of it neat brings a salty, savoury note which is followed by bright pepper. It's quite the experience. There's a hint of citrus in there, as if someone has cut some lemons on the other side of the room and you can just about pick up wafts of it. A splash of water tones down the spice and now the juicy, ripe citrus shines on the palate. It's pretty clean and refreshing; neat it was a bit strong and I would have thought it had a higher ABV, but diluted down it is much calmer.
Having packed my negroni ingredients to take home tomorrow, we are only mixing this with tonic today. Tonic again changes the flavour profile, bringing back the peppery notes whilst changing the citrus from juicy to sugary sherbet. It's a solid gin, nice and bright, plenty of flavour – certainly not dull. My only issue with this gin is the price tag, but it is distilled and bottled literally on the other side of the world so it does have to travel a long way.
You can get a 70cl bottle of the 43% gin from Spirits Kiosk [Ad] for £38.45 (at time of writing). You can find Manly on Facebook, Twitter and Instagram.
Have you tried the Manly Spirits range? Let me know your thoughts on Twitter and Instagram. As tomorrow is the last day of Ginvent, catch up on all the fun here.