Note: This gin was gifted to me by Sian and Andrew, but as always I'll let you know what I think.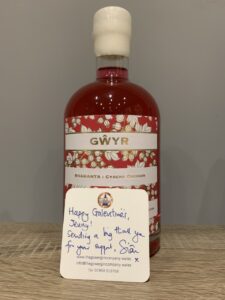 Happy Valentine's day! Last February, Gower Gin company launched their newest gin through the Craft Gin Club, a gin designed to be shared with the one you love. The Rhamanta gin features pomegranate seeds, red rose petals and pink grapefruit zest. For 2021 we have been treated to a limited edition version of Rhamanta which has been steeped in fresh redcurrants. Redcurrants are sharper than blackberries, but with an equal amount of sweetness. What I really like about the Rhamanta gin is that, despite the botanical list, it isn't too sweet and brings a good amount of dry, tart citrus, so I think the added redcurrants will ensure it doesn't become too sugary. As well as the added redcurrants, this is bottled at 40%, instead of 43%, and the label has been redesigned to feature the redcurrant plant. So, how does it compare?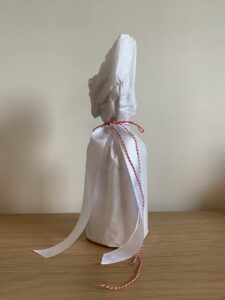 Opening the traditionally lovely wrapping, followed by the richest creamy white wax seal, and the smell you are greeted with is delicious. You instantly pick up the sharp citrus, underpinned by a jammy note. In the glass, the grapefruit is prominent on the nose, which is enhanced with a splash of water. Sipping it neat is an interesting mix of flavours: citrus, floral, spiced, fruity. It's a slow start, then the flavours ramp up, quickly evolve then fade away as if they were never there. On first glace it would be easy to write this off as yet another pink gin, but you'd be in for a mighty shock if you were expecting this to be sweet and sugary.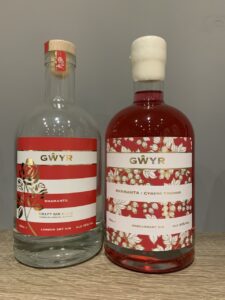 Sian has recommended using Artisan Pink Citrus tonic or Fentimans Rose lemonade as a mixer – both of which I love but don't have in the house at the moment and it's too cold to venture outside. So I'm trying this two ways; first up mixed with Fever Tree light tonic. This softens the acidity and helps bring out the sweeter notes. Whilst I enjoyed it neat, this definitely makes it more sippable as the flavours don't hit you with the same intensity. On one hand, the fruits in the gin make you think of sipping away in the garden in the sunshine, on the other hand the rich fruit also evokes ideas of sipping this under a blanket hiding from the cold.
My second serve is the closest to Sian's suggestion, using Fentimans pink grapefruit tonic. Wow that's sharp. In an utterly brilliant way. The redcurrants bring a syrupy thickness to it so you pull a funny face when the citrus hits you, then feel it coating your throat on the way down. Basically, it's like liquid Tangfastics and I am fully here for that. I now see why Sian recommends this combination. I also think this would work brilliantly mixed with a splash of prosecco for a fancy fizz, or even in a negroni to bring a touch of fruit to the otherwise dry and bitter cocktail.
If you want to get yourself a bottle of the Rhamanta Redcurrant gin, it's available from their website for £37.95 (at time of writing) from their website for a 70cl bottle. I don't think there is anything Gower can create that I wouldn't buy. You can find Gower on Facebook, Twitter and Instagram.
Have you tried Rhamanta gin? Or the new redcurrant version? Let me know your thoughts on Twitter and Instagram.